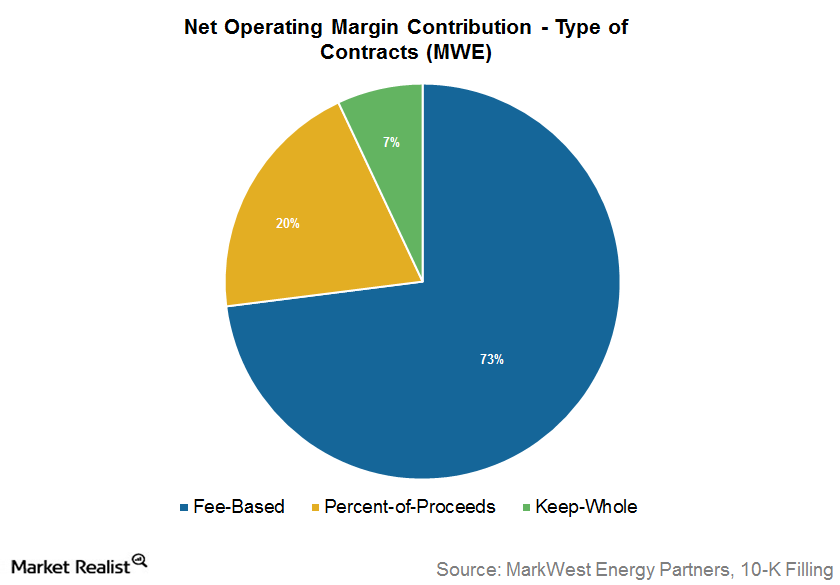 Insight for Investors: Understanding MLP Contracts
By Kurt Gallon

Apr. 14 2015, Updated 10:05 a.m. ET
Fee-based versus other contracts
In most midstream activities—like transportation and storage of commodities—MLPs (master limited partnerships) charge a fixed fee for each barrel of oil or cubic foot of natural gas transported or stored. However, MLPs involved in natural gas processing usually have a mix of fee-based and non-fee based contracts. The non-fee based contracts are beneficial when commodity prices move upward.
Article continues below advertisement
Type of contracts
Fee-based contract – Under a fee-based contract, revenue is linked to throughput volumes and not to commodity prices. However, if prices stay low for a longer period, drilling activity may slow down and rigs may shut down. This would affect the energy supply. As a result, it would affect midstream companies' profitability.
Percentage-of-proceeds contracts – Under POP (percentage-of-proceeds) contracts, processors receive an agreed upon percentage of actual proceeds from selling the dry natural gas and NGLs (natural gas liquids) in the market. Processors can also receive an agreed upon percentage based on index prices for the commodities—or POI (percentage of index).
Keep-whole contracts – Under keep-whole contracts, the processor retains the NGLs extracted and returns the processed natural gas or value of the natural gas to the producer. Under this contract, the processor benefits when the price of NGLs—sold in the market—increases and the price of natural gas—which is returned—decreases.
Under POP and keep-whole contracts, the revenue that isn't hedged is linked to the movement in commodity prices. Companies hedge a portion of their revenue through derivative products like swaps, options, and future contracts. Investors need to know that hedges usually don't last long. So, realized prices will eventually follow market prices.
MarkWest Energy Partners (MWE) is involved in natural gas gathering, processing, transporting, and slew of other activities. It has a mix of all three contracts—refer the above chart. During 2014, fee-based contracts accounted for ~73% of MarkWest Energy Partners' net operating margin.
Spectra Energy Partners LP (SEP), Enterprise Product Partners (EPD), and Targa Resources Partners (NGLS) are involved in natural gas processing and other activities. They also have a mix of all three types of contracts. Enterprise Product Partners accounts for ~10% of the Alerian MLP ETF (AMLP).