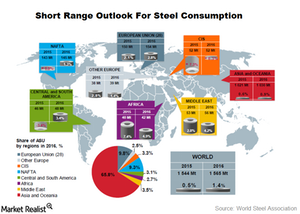 Global Steel Consumption Is Expected to Grow 0.5% in 2015
Global steel consumption
The WSA (World Steel Association) expects global steel consumption to grow by 0.5% in 2015 on a YoY (year-over-year) basis. This was highlighted in the short range outlook released on April 20. In its October 2014 release, the WSA forecast that steel consumption would grow by 2% in 2015. However, a lot changed for the global steel industry in last six months. Investors who follow our monthly indicator series, would agree that the steel industry's fundamentals got worse in the last six months.
Article continues below advertisement
Global breakdown
The above chart shows the regional breakdown of global steel consumption. Steel consumption in Asia is expected to increase 0.6% YoY to reach 1,021 million tonnes in 2015. Steel consumption in China (EWZ) is expected to decrease 0.5% over this period. In 2014, steel consumption in China declined by 3.3%.
The WSA expects steel demand to grow by 6.2% in India (PIN). This would mean that India is expected to grow at a rate that's much faster than the global average. Going forward, we'll discuss why the WSA sees a bright spot in India. Last year, steel consumption in India increased by 2.2%.
China
The continued slowdown in the real estate sector is the main reason behind the slowdown in Chinese steel consumption. In our recent series, we noted that the Chinese real estate sector's major indicators were on a downward trend. The construction sector accounts for more than half of China's steel consumption. A slowdown in Chinese steel demand negatively impacts companies like Companhia Siderurgica Nacional (SID), Steel Dynamics (STLD), and Commercial Metals Company (CMC).
The Chinese government is taking steps to address the stagnating growth in its economy. We'll discuss some of these measures in the next part of this series.