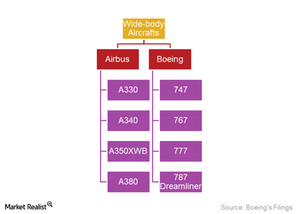 Boeing's Fleet of Wide-Body Aircraft
By Ally Schmidt

Apr. 9 2015, Updated 1:11 p.m. ET
Wide-bodied aircraft
In contrast to its narrow-body planes, Boeing's (BA) wide-body aircraft are larger planes with a cabin width of 16–23 feet across and seats configured seven to ten across. These planes typically have two aisles separating the seats and have several travel classes. These aircraft also include galleys, lavatories, in-flight entertainment, and baggage compartments, and some carriers include onboard Wi-Fi service.
The most popular wide-body aircraft, also known as jumbo or super jumbo jets, are:
Airbus A330, A340, A350XWB, and A380
Boeing 747, 767, 777, and 787 Dreamliner
These aircraft are capable of flying transoceanic routes, can accommodate 200–500 passengers, and also transport commercial cargo across the globe. These aircraft also serve in scientific, research, and military uses.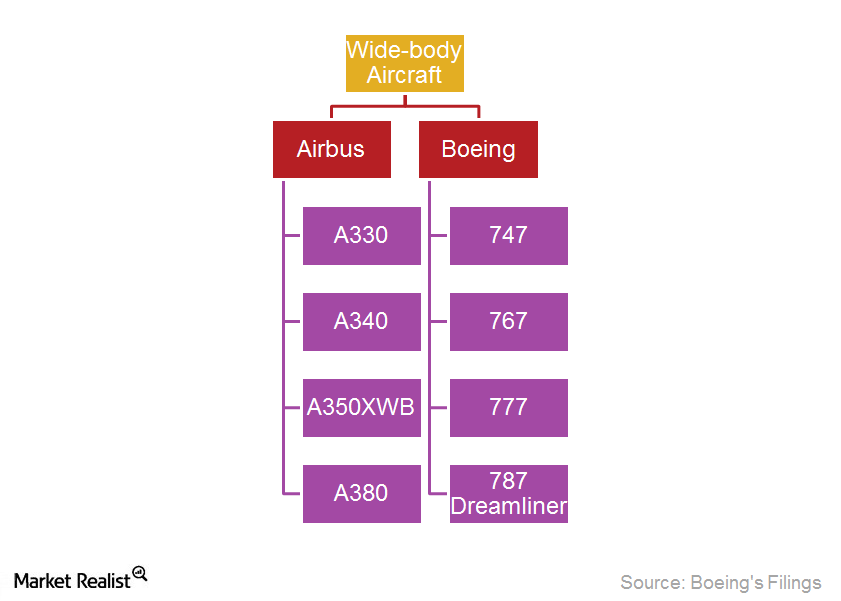 Article continues below advertisement
Boeing's wide-body aircraft
Boeing (BA) has a large number of aircraft variants used in the wide-body aircraft segment. The company's 747, 767, 777, and 787 families compete fiercely with Airbus to serve this segment. These aircraft are primarily used for transcontinental and international passenger and freight routes.
The 747 series of aircraft feature four engines and double-deck configurations, with a twin-aisle main deck and a single-aisle upper deck. The 747 is available in passenger, freighter, and military versions. The current variants are the 747-8I and 747-8F, as well as the BBJ (Boeing Business Jet) version of the 747-8.
The current models of the 767 series include the 300F, KC-767, and KC-46. These twin-engine, twin-aisle aircraft can accommodate 181–375 passengers. The 767 is used by major airlines such as Delta Air Lines (DAL), American Airlines (AAL), and United Airlines (UAL). ETFs that have exposure to stocks of these airline companies include the SPDR S&P Transportation ETF (XTN) and the iShares Transportation ETF (IYT).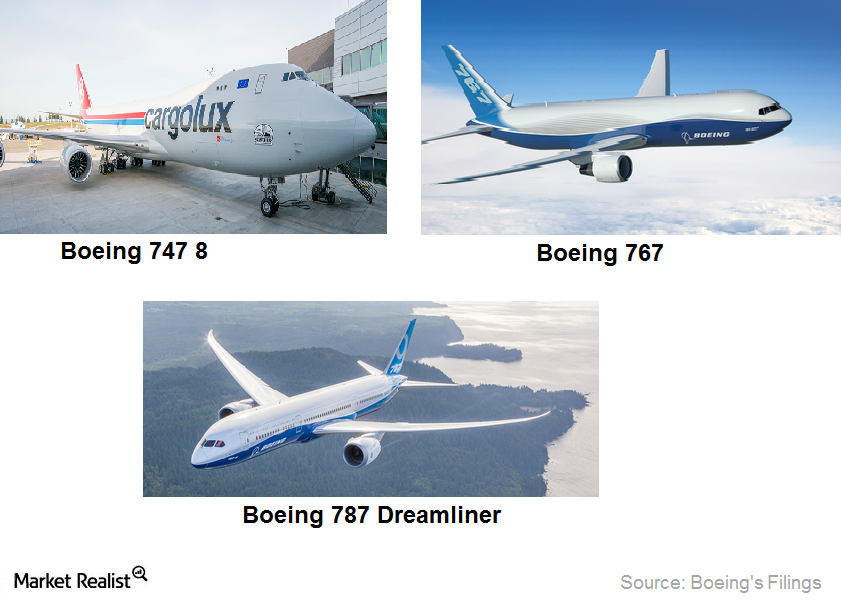 The Boeing 777 family features long-range, wide-body, twin-engine jet aircraft with a seating capacity of 314–451 passengers. Its current production models are the 777-300ER and the 777F freighter variant. The upcoming 777X family, including the lengthened 777-9X and extra-long-range 777-8X, will have newer features such as folding wingtips and upgraded engines.
The Boeing 787 Dreamliner is the company's biggest jetliner, with a capacity of 242–335 passengers. It is a long-range, mid-size wide-body, twin-engine jet airliner and features fly-by-wire flight systems, a four-panel windshield, and a smoother nose contour. The 787 features serrated chevrons on its engine nacelles, which reduces the noise from the engines' jet blast. The current production models are the 787-8, 787-9, 787-10, and the Boeing Business Jet.