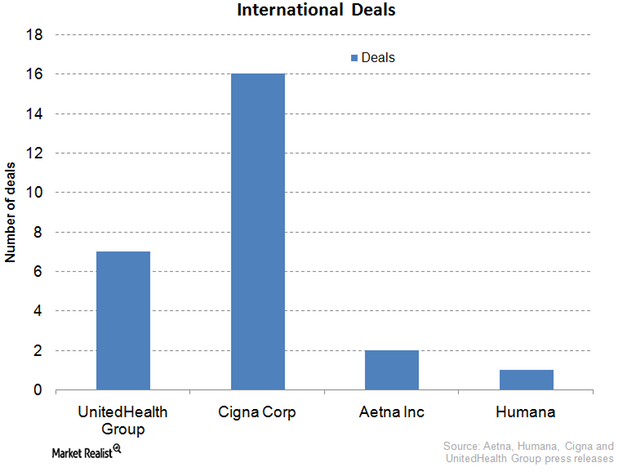 What's UnitedHealth Group's strategy for international expansion?
International expansion
The private health insurance industry in the US has been expanding its footprint in international markets. International markets are less penetrated and competitive—compared to the US markets. Health insurance companies (XLV) are actively pursuing opportunities overseas to earn higher margins than those earned in the domestic markets.
The above graph shows that Cigna (CI) and UnitedHealth Group (UNH) lead the private health insurance industry in terms of deal activity in international markets. They're followed by Aetna (AET) and Humana (HUM).
Article continues below advertisement
Article continues below advertisement
UnitedHealth Group inked deals in Brazil, Portugal, and the United Kingdom. The deals have either been mergers and acquisitions or joint ventures with local insurance companies. The company's competitive strategy is to provide products based on the local infrastructure, culture, and needs in these international markets.
By 2014, UnitedHealth Group provided medical benefits to more than 4 million people, mainly in Brazil. It provides its benefits in more than 125 other countries around the world.
Brazil
The Brazilian market has a growing middle class. This provided an opportunity for managed care organizations to offer their products in the market. In 2012, UnitedHealth Group expanded its presence in Brazil by acquiring Amil Participações S.A. It's the largest insurance provider in Brazil. It has a strong brand presence.
The deal was completed for an all-cash consideration of $2.3 billion. It gave UnitedHealth Group access to Amil's 7 million enrollees. Amil operates an extensive network of health providers including 30 acute hospitals, 50 specialty, primary care, and emergency services across Brazil. Amil also contracted with external health providers involving 27,000 physicians and other health professionals, ~2,100 hospitals, and more than 7,600 diagnostic laboratories.
Other markets
UnitedHealth Group entered into a partnership with Maxima Insurance, in the Czech Republic, to target the expatriate population. The expatriate population needs health insurance to fulfill their visa requirements. The company also entered the African market, in cooperation with a medical services organization in South Africa, to provide health insurance services in 30 countries in the continent.