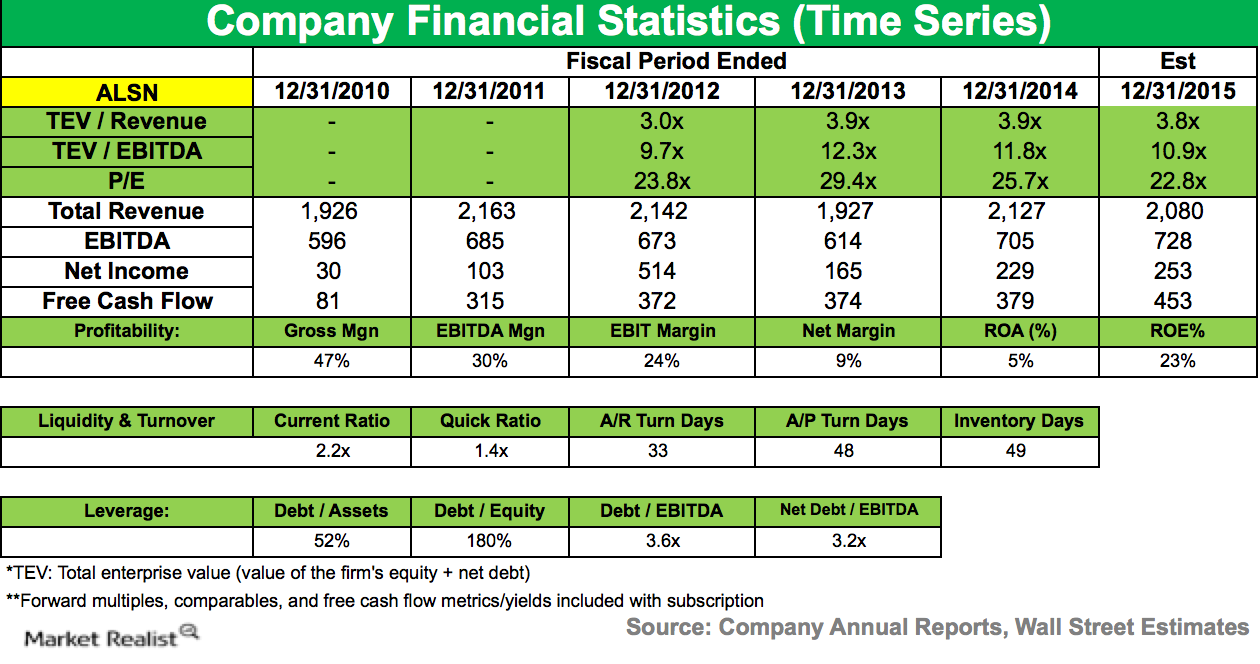 ValueAct Capital Ups Its Stake in Allison Transmission Holding
ValueAct Capital and Allison Transmission Holding
During 4Q14, ValueAct Capital increased its position in Allison Transmission Holding (ALSN). The fund holds 19,125,204 shares of ALSN, which account for 4.06% of the fund's total 4Q14 portfolio, up from 3.44% of the fund 3Q14 portfolio with 18,025,204 shares.
Article continues below advertisement
Article continues below advertisement
Overview of Allison Transmission Holding
Allison Transmission Holding and its subsidiaries design and manufacture commercial and defense fully automatic transmissions. The company has 13 transmission product lines. Allison transmissions are used in a wide variety of applications, including on-highway trucks, buses, motorhomes, off-highway vehicles, and equipment such as energy, mining, construction, and defense vehicles. As per Allison's filings, it sold ~63% of fully automatic transmissions for medium- and heavy-duty on-highway commercial vehicle applications.
The company serves worldwide customers through an extensive network of 1,400 distributors and dealers. But North America represented 80% of the company's total revenue in 2014. Some of its end users include Coca-Cola (KO), Waste Management (WM), British Airport Authority, and Navistar International (NAV).
Article continues below advertisement
Fourth quarter 2014 results "exceed the guidance ranges"
In 4Q14, net sales grew 11% to $544 million. The growth was driven by the "continued recoveries in the North America On-Highway and Off-Highway end markets, and higher demand in the Service Parts, Support Equipment & Other end market, partially offset by lower demand in the Outside North America On-Highway and North America Hybrid-Propulsion Systems for Transit Bus end markets."
Adjusted net income was $117 million compared to $78 million in 4Q13. Adjusted free cash flow was $129 million or $0.71 per diluted share compared to $109 million or $0.59 per diluted share in 4Q13.
For the full year 2014, net sales were $2.13 billion compared to $1.93 billion. Adjusted net income was $479 million. Adjusted free cash flow was $524 million, or $2.87 per diluted share.
Returns to shareholders
The company's board of directors authorized a stock repurchase program of $500 million. The company also increased its quarterly dividend from $0.12 to $0.15 per share. On February 19, the company declared a quarterly dividend of $0.15 per share.
Cautious 2015 outlook
The company sees uncertainty in the global off-highway end markets in the future. For the full-year 2015, the company expects net sales to be 0% to 5% down. Adjusted earnings before interest, tax, depreciation, and amortization (or EBITDA) are expected to be between 34% and 35.5%. Adjusted free cash flow is to be in the range of $475 to $525 million, or $2.60 to $2.90 per diluted share.
You can gain exposure to ALSN by investing in the iShares Russell 1000 Growth ETF (IWF). ALSN accounts for 0.039% of IWF.
In the next part of the series, we'll discuss ValueAct's position change in Microsoft.