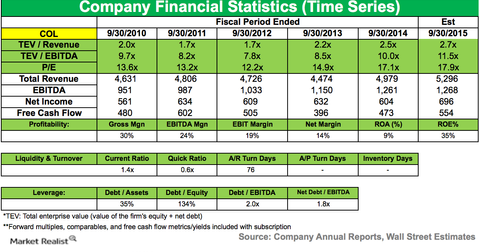 ValueAct Capital Lowers Stake in Rockwell Collins
By Diana Key

Updated
ValueAct Capital and Rockwell Collins
During 4Q14, ValueAct Capital decreased its position in Rockwell Collins (COL). The fund holds 4,465,000 shares of Rockwell Collins, which account for 2.36% of the fund's total 4Q14 portfolio. In 3Q14, ValueAct held 11,051,428 shares of Rockwell Collins, which represented 5.81% of the 3Q14 portfolio.
Article continues below advertisement
Overview of Rockwell Collins
Rockwell Collins is a leader in the design, production, and support of communications and aviation electronics for commercial and military customers worldwide. The company operates in three segments.
Commercial Systems
This segment supplies aviation electronics systems, products, and services to customers worldwide. The customer base consists of original equipment manufacturers (or OEMs) of commercial air transport, business and regional aircraft, commercial airlines, and business aircraft operators.
Article continues below advertisement
Government Systems
This business provides a broad range of electronic products, systems, and services to customers, including the US Department of Defense, other ministries of defense, other government agencies, and defense contractors around the world. Rockwell is one of the important defense contractors for the US government. Other contractors include Northrop Grumman (NOC), Boeing (BA), and Exelis (XLS).
Information Management Services
With the acquisition of ARINC in December 2013, Rockwell formed this new segment. This segment combines ARINC with Rockwell's legacy flight services business.
Article continues below advertisement
ARINC drives first quarter results
For the first quarter of 2015, the company's revenue increased 16%, or $172 million, to $1.2 billion. The increase includes $137 million of ARINC revenue compared to $6 million in 1Q14.
Information Management Services revenue was $149 million compared to $18 million in 1Q14. Commercial Systems revenue grew 9% to $568 million, driven by aircraft OEMs. Operating margin for Commercial Systems was 22%. Government Systems sales declined 1% to $509 million due to lower deliveries of joint tactical radio system (or JTRS) Manpack Radios in communication products.
The operating margin for Government Systems was 20.8%. Earnings per share (or EPS) grew 29% to $1.26. Debt-to-EBITDA (earnings before interest, tax, depreciation, and amortization) as of December 31, 2014, was 2.0x. During the quarter, Rockwell spent $231 million on research and development.
Returns to shareholders
During the first quarter of 2015, Rockwell repurchased 2.2 million shares for $174 million. The company still has $531 million authorization remaining in its share buyback program. On February 3, it declared a quarterly dividend of $0.30 per share.
Rockwell raises guidance for 2015
For fiscal 2015, the company expects revenue to be between $5.2 billion and $5.3 billion. EPS is expected to be between $5.10 and $5.30. The company increased this projection from the previous guidance of $4.90 to $5.10, in accordance with the "retroactive extension of the Federal R&D tax credit."
The company anticipates cash flow from operations of $700 million to $800 million, which is an increase from the previous guidance range of $675 million to $775 million. The company increased R&D investment guidance by $50 million to $1 billion.
You can gain exposure to Rockwell Collins by investing in the Industrial Select Sector SPDR Fund (XLI) and the SPDR S&P 500 ETF (SPY). Rockwell accounts for 0.77% and 0.07% of XLI and SPY, respectively.
In the next part of the series, we'll discuss ValueAct's position change in Adobe Systems.