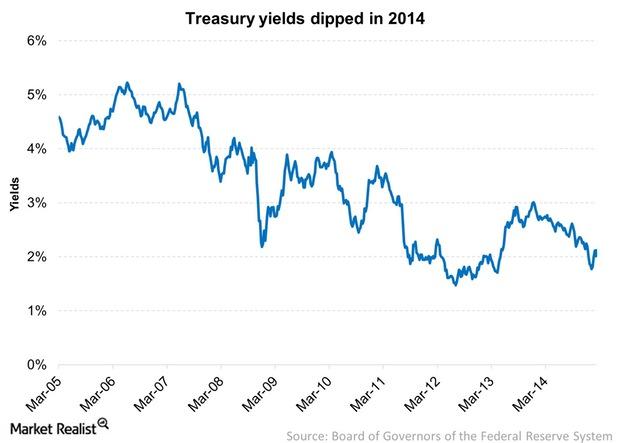 Why US Treasury Yields Stayed Low In 2014
By Matt Tucker, CFA

Mar. 5 2015, Updated 3:47 p.m. ET
While interest rate movements in 2014 may not have aligned with expectations, Matt Tucker provides some key takeaways investors need to know.
What a difference a year makes when it comes to expectations versus reality. Case in point: at the end of 2013, most interest rate strategists expected 10 year Treasury rates to rise to the 3.5% to 4.5% range over the course of the year. Clearly they were mistaken. Instead, bond yields surprised many investors by falling instead of rising. The 10 year actually declined quite significantly, from 3.02% to 2.17%.
Article continues below advertisement
Market Realist – US Treasury yields stayed low due to soft global growth.
The graph above shows the yield for the ten-year US Treasury (IEF) in the last ten years. Yields have been driven down since the financial crisis due to the Fed's bond buying program, which included aggressive purchases of long-dated Treasuries and MBS (mortgage-backed securities). The ten-year Treasury is yielding 2.12% as of March 3.
International Treasury bonds are also seeing low yields. German five-year Treasuries recently touched negative territory, while the ten-year is hovering around the 0.4% mark. The Japanese ten-year yield is also below 1%, while British ten-year gilts are around 1.5%. With most developed markets (EFA) seeing low bond yields, investors have been searching for higher yields for months now.
More recently, the dip in Treasury yields was due to softening of growth in Europe. This has caused investors to flee towards safe havens like Treasuries (TLT) and gold (IAU). These investments are considered safe because their prices don't correlate with equities (IVV). However, yields rebounded after a good earnings season in the US and hopes of a deal in Greece (GREK).
The ECB (European Central Bank) recently introduced a stimulus worth $1.3 trillion. This could support the European stocks (EZU) and bonds in much the same way that the US QE (quantitative easing) affected markets.