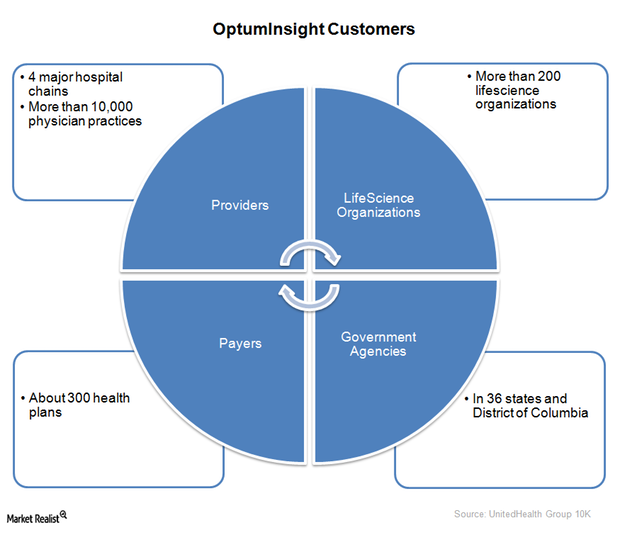 UnitedHealth Group's OptumInsight – improving medical care
OptumInsight
The health insurance industry uses complex modeling techniques that use past data to predict the probability of future claim expenses. The underlying data involves health provider prices, drug prices, and other relevant healthcare data points. The data enables large health insurers—like UnitedHealth Group (UNH), Aetna (AET), Cigna (CI), and Anthem (ANTM)—to derive trends and best practices for the healthcare industry (XLV).
UnitedHealth Group capitalized on this knowledge and its technical prowess to provide technology, operational, and consulting services to hospitals, physician practices, other health insurers, government agencies, and life science organizations, through the its OptumInsight segment.
The above graph shows UnitedHealth Group's OptumInsight segment's major customers. OptumInsight enables them to reduce expenses, meet compliance mandates, improve clinical performance, achieve efficiency, and modernize their operating systems.
OptumInsight's products are distributed mainly through direct sales force. The products are also distributed through alliances and business partnerships with other technology vendors.
Article continues below advertisement
Article continues below advertisement
Strategic acquisitions
Using clinical data obtained from hospitals and other health providers for meaningful analytics is difficult. Different EMR (electronic medical record) software, deployed at different health providers, use different standards and nomenclatures to report data.
OptumInsight solved this complex problem by acquiring Humedica. It's a digital health company that aggregates data from the EMR of a large number of healthcare providers.
However, the company differs from its peers. It's the first company to standardize the clinical data and make it consistent for analytical use. In 2014, OptumInsight released a population health analytics tool—OptumOne. The tool uses past claims data and clinical data from Humedica, combined with advanced analytics, to identify gaps in care. It enables hospitals to improve the quality of care.