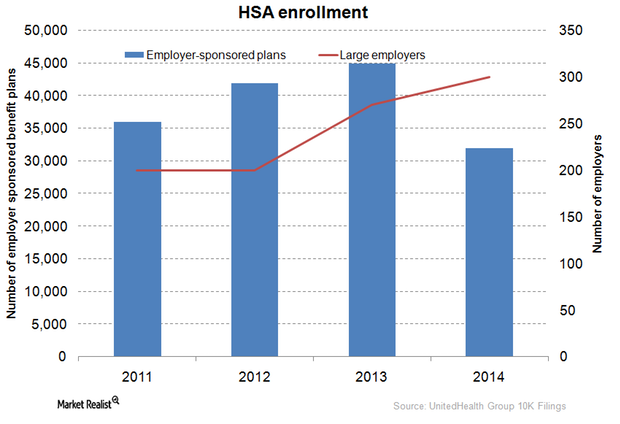 What are UnitedHealth Group's consumer engagement products?
Consumer engagement products
The private health insurance industry (XLV) offers a diverse range of products. The products combine health plans with financial accounts to cater to different consumers' needs. These products involve high-deductible and consumer-driven health plans combined with HSA (health savings account) and consumer incentive and education programs.
Article continues below advertisement
Article continues below advertisement
Consumer-driven health plans
The above graph shows that the number of large employers in self-insured markets purchasing UnitedHealth Group's HSA increased from 200 in 2011 to 300 in 2014. HSA is a savings account. Individuals and employers make contributions to the account from pretax earnings. Then, members can pay premiums for the health plans. They can pay additional expenses for health services from these tax-sheltered accounts.
An individual or family is eligible for an HSA account only if they have a qualified high deductible health insurance plan—also called CDHP (consumer-driven health plan)—with minimum deductible criteria set each year by the U.S. Department of the Treasury. To learn more about the deductible, read Making sense of health insurance companies' payment options.
A high deductible health plan requires members to use health services prudently. They have to pay the expenses themselves as long as the cumulative medical bill in the calendar year doesn't exceed the deductible amount. This trend makes the plans attractive for self-insured employers, who assume financial risk for their employees' claims.
Since the contributions and withdrawals from the HSA account aren't subject to federal taxes, the product is also attractive for members. This led health insurance companies to offer the high deductible plans with HSA for greater consumer engagement.
Consumer engagement tools
In addition to CDHP, health insurance companies—like UnitedHealth Group (UNH), Aetna (AET), Cigna (CI), and Anthem (ANTM)—offer mobile and online services for people seeking benefits, pricing, and quality information on the health plans. UnitedHealth Group has a broad suite of services such as AdvocateMe, myHealthcare Cost Estimator, and Health4Me to educate its consumers.