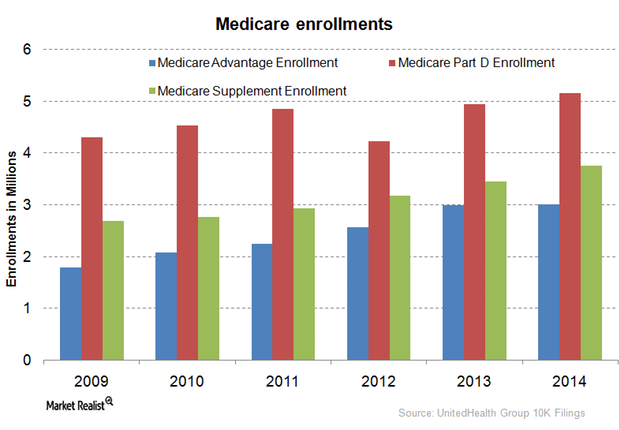 UnitedHealth Group provides services to Medicare beneficiaries
Medicare enrollments
The U.S. Census Bureau projects that the Medicare eligible population will rise from 13.5% of the total population in 2012 to more than 20% by 2030. The private health insurance industry (XLV) is seeing a rise in MA (Medicare Advantage), Medicare Part D—Medicare prescription drug plan, and supplement Medicare enrollments.
Article continues below advertisement
Article continues below advertisement
Medicare Part D
Medicare Part D is a federal government program. It subsidizes prescription drug expenses for Medicare beneficiaries. Health insurance companies—like UnitedHealth Group (UNH), Aetna (AET), Cigna (CI), and Anthem (ANTM)—provide Medicare Part D insurance either through MA or a stand-alone Medicare Part D program.
UnitedHealth Group offers two stand-alone Medicare Part D plans—the AARP MedicareRx Preferred and the AARP MedicareRx Saver Plus plans. Out of the total 8 million enrollees in the company's Medicare Part D program, about 5 million are enrolled in stand-alone programs. The remaining 3 million obtain prescription drug coverage through the MA program.
UnitedHealth Group also has about 4 million people enrolled in supplemental Medicare programs. The plans are sold to Medicare beneficiaries in addition to traditional Medicare coverage.
MA program
UnitedHealth Group offers health coverage to Medicare beneficiaries through the company's MA program in exchange for a fixed monthly premium per member from CMS (Centers for Medicare and Medicaid Services) and in some cases consumer premiums.
In 2014, UnitedHealth Group exited some of the Medicare markets that weren't profitable. This caused the company to lose 150,000 senior enrollees. This is mainly a response to the provision in the Budget Control Act of 2011. It has been effective since April 2013. Payment rates for 90% of Medicare services were reduced up to 2%. This payment cut, also called Medicare sequestration cuts, has been extended. It will be effective until 2024.
As a result, UnitedHealth Group's MA and Medicare Part D market shares are expected to decline in 2014.