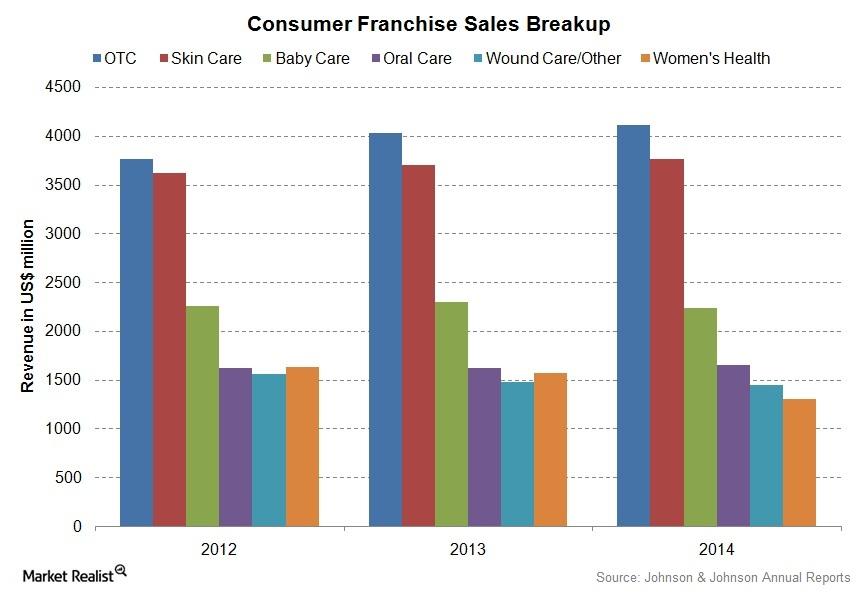 A Snapshot of Johnson & Johnson's Consumer Segment
Consumer segment
Johnson & Johnson's Consumer segment is focused on baby care, oral care, skin care, and other consumer products. It contributes ~19–20% of the company's revenue.
For 2014, this segment generated revenue of about $14.5 billion. It was an operational increase of 1%. It was offset by the negative currency impact of 2.4%. The total decrease was 1.4%—compared to the year before. The company went for the divestiture of women's sanitary protection products in the US, Canada, and the Caribbean. The divestiture was completed by the end of 2013.
As a percentage of sales, the pre-tax profit was 13.4% in 2014. This was achieved mainly due to the cost containment initiatives.
Article continues below advertisement
Products
The Consumer segment includes products for OTC (over-the-counter) sales, skin care, baby care, oral care, wound care, and women's health. The key products from this segment are:
OTC franchise – analgesics and upper respiratory products
skin care franchise – Aveeno, Neutrogena, and Dabao product lines
baby care franchise – Johnson's baby products
oral care franchise – Listerine products
wound care franchise – Band-Aid, Bengay, and Neosporin products
These products are marketed to general public and sold through retail outlets and distributors across the globe.
Brands
Consumer Products is a segment where the products are sold mainly due to the brand reputation and the trust for its quality. A company like Johnson & Johnson has over 100 brands. A major part of the brands is focused on consumer products. A few of the major brands for this segment include:
Johnson's baby for baby care products
Aveeno, Neutrogena, Johnson's, Clean & Clear, and Dabao for skin care products
Band-Aid, Bengay, Savlon, and Neosporin for wound care products
Listerine and Rembrandt for oral care products
Splenda and Benecol for nutritionals
Visine and Acuvue for vision care products
Tylenol, Sudafed, Pepcid and Benadryl for OTC medicines
Competition