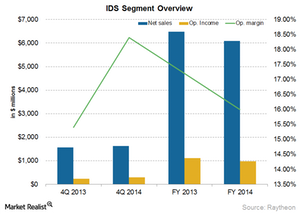 RTN's Integrated Defense Systems Segment's Financial Performance
By Ally Schmidt

Updated
Overview of segment
According to Raytheon (RTN), "The Integrated Defense Systems segment specializes in producing air and missile defense, large land and sea based radars and systems for managing command, control, communications, computers and intelligence (C4I), air traffic management systems, sonars, torpedoes and electronic systems for ships."
Article continues below advertisement
4Q14 performance
Raytheon's Integrated Defense Systems, or IDS, segment had a strong performance in 4Q14. The segment's net sales were $1,627 million. The net sales were up 4% year-over-year, or YoY, from $1,569 million in 4Q13. The growth in net sales was primarily driven by higher sales in the international Patriot programs.
The segment also saw improved operating performance and a change in the program mix during the quarter. This caused its operating income to rise by 24% YoY. The segment recorded operating income of $299 million in 4Q14—compared to $241 million in 4Q13. The operating margins also improved by 300 basis points. They reached 15.4% at the end of 4Q14.
The key bookings during the quarter were:
$2,038 million from a Qatar order to provide advanced Patriot air and missile defense capability
$355 million from the Australian Navy for the Air Warfare Destroyer program
$192 million for providing Consolidated Contractor Logistics Support
$154 million from the Missile Defense Agency for a radar sustainment contract
Full-year performance
On a full-year basis, the segment had a rather disappointing performance. The segment had full-year net sales of $6,085 million. This was a 6% YoY decline—compared to $6,489 million in 2013. The decline was a result of the scheduled completion of production phases on a close combat radar program, a missile defense radar program, and certain international Patriot programs.
The segment recorded an operating income of $974 million for the year. This was much lower than last year's $1,115 million. It was primarily due to lower volume and a change in mix on the international Patriot programs. However, the margins improved by 120 basis points to end at 16%.
Raytheon forms a 1.32% holding of the Vanguard Industrials ETF (VIS). A few other Aerospace companies included in VIS are Honeywell International (HON), Lockheed Martin (LMT), and Rockwell Collins (COL). They have 2.91%, 2.04%, and 0.40% holdings, respectively.