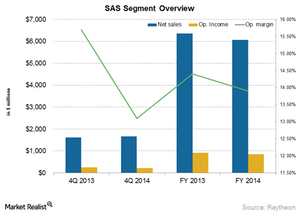 Raytheon's Space and Airborne Systems Segment's Performance
By Ally Schmidt

Mar. 18 2015, Updated 6:06 p.m. ET
Business overview
According to Raytheon (RTN), "The SAS segment builds radars and other sensors for aircraft, spacecraft and ships. It also provides communications and electronic warfare solutions and performs research in areas ranging from linguistics to quantum computing. The segments major programs are the Active Electronically Scanned Array (or AESA) radar, Next Generation Jammer (or NGJ), Raytheon Advanced Combat Radar (or RACR), multi-spectral targeting systems, and space-based sensors."
Article continues below advertisement
4Q14 analysis
Raytheon's Space and Airborne Systems, or SAS, fourth quarter performance was a mixed bag. The segment saw growth in revenue and its operating margins. However, the operating income fell 14% year-over-year, or YoY. For the quarter, the revenue was $1,660 million. The revenue was up 3% YoY compared to $1,613 million in 4Q13. The growth was driven by higher volume on its electronic warfare systems program.
The operating margins also improved by 260 basis points. The operating margins were 13.1% at the end of the quarter. However, due to the timing of program efficiency, the segment's operating income saw a huge 14% YoY decline to $217 million.
The key bookings for the quarter included a US Navy order on Advanced Targeting Forward Looking Infrared pods and spares worth $105 million, a US Navy Multiband Terminal program worth $76 million, and other contracts worth $150 million.
Full-year analysis
Similar to all of the other segments, the SAS segment's full-year performance was also disappointing. The segment's revenue and operating profits both saw substantial declines. The revenue dropped from $6,731 in 2013 to $6,072 at the end of the year. The decline was due to a lower volume on inter-segment sales and classified programs.
The operating profits also dropped from $920 million to $846 million for the given timeframe. However, the operating margins improved by 50 basis points during the year.
Raytheon forms a 1.32% holding of the Vanguard Industrials ETF (VIS). Other major companies included in VIS are Caterpillar (CAT), FedEx (FDX), and Lockheed Martin (LMT). They have 1.95%, 1.86%, and 2.07% holdings, respectively.