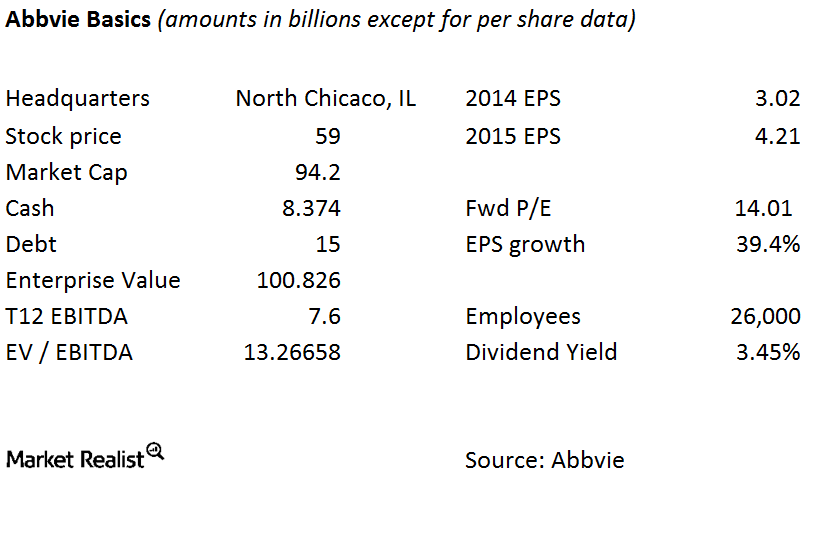 The Pharmacyclics–AbbVie Merger: The Basics of AbbVie
AbbVie: An overview
AbbVie Inc. (ABBV) is a global, research-based biopharmaceutical company. AbbVie's products are focused on treating conditions such as chronic autoimmune diseases, including rheumatoid arthritis, psoriasis, and Crohn's disease.
AbbVie's products also treat hepatitis C (or HCV), human immunodeficiency virus (or HIV), endometriosis, thyroid disease, Parkinson's disease, complications associated with chronic kidney disease and cystic fibrosis, and other health conditions such as low testosterone.
Article continues below advertisement
AbbVie's products
The following are AbbVie's products and descriptions of their uses:
Humira is a biologic therapy administered as a subcutaneous injection. It's used to treat rheumatoid arthritis, Crohn's disease, psoriatic arthritis, ankylosing spondylitis, plaque psoriasis, juvenile idiopathic arthritis, ulcerative colitis, axial spondyloarthritis, and enthesitis-related arthritis.
Viekira Pak is an all-oral, short-course, interferon-free therapy, with or without ribavirin, for the treatment of adult patients with genotype 1 chronic hepatitis C, including those with compensated cirrhosis.
Kaletra is an anti-HIV-1 medicine.
Norvir is a protease inhibitor that is indicated in combination with other antiretroviral agents for the treatment of HIV-1 infection.
Androgel is a testosterone replacement therapy for males diagnosed with symptomatic low testosterone.
Creon is a pancreatic enzyme therapy for exocrine pancreatic insufficiency.
Synthroid is used in the treatment of hypothyroidism.
Duopa/Duodopa treats Parkinson's disease.
Sevoflurane is an anesthesia.
Other products are therapies to treat high cholesterol.
Humira accounts for about 63% of AbbVie's sales. The drug will begin to go off patent in December 2016. A major reason for the Pharmacyclics–AbbVie merger is to diversify AbbVie away from its reliance on a single product and boost its pipeline. Pharmacyclics, Inc. (PCYC) will add Imbruvica to AbbVie's offerings.
Other merger arbitrage resources