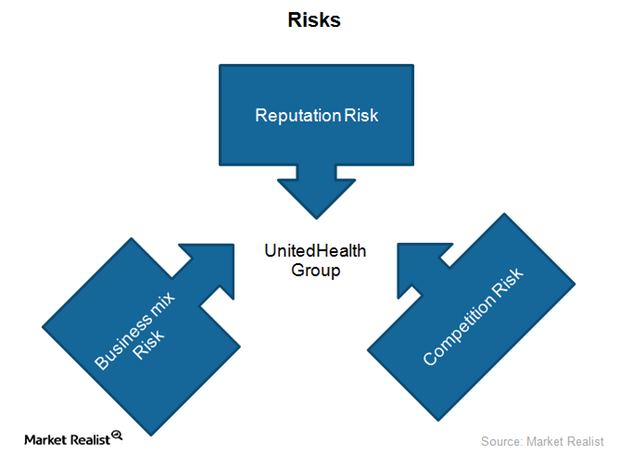 What key risks does UnitedHealth Group face?
Key risks
UnitedHealth Group (UNH) is a health insurance provider. It faces a unique combination of business risks. On top of industry-specific risks, the company must contend with risks resulting from its business mix and the impact of the regulatory framework.
Article continues below advertisement
Article continues below advertisement
Reputation Risk
The Affordable Care Act increased access for health insurance by implementing online public health exchanges. Individuals can compare and buy health plans according to their needs. However, this is gradually eroding the employer-sponsored coverage base as more individuals seek insurance through the marketplace.
Now, the private health insurance industry (XLV) needs to consider factors like access to trusted doctors and the number of providers in the network. These factors are important for individuals seeking coverage.
UnitedHealth Group terminated contracts with doctors in Massachusetts, Missouri, Connecticut, and New York. This affected about 10,000 patients. As the company reduces its network of healthcare providers for commercial and MA (Medicare Advantage) plans to save on costs, the company stands to lose market share in the US.
Article continues below advertisement
Business mix risk
The employer-sponsored and self-insured segment accounts for about 42% of UnitedHealth Group's total enrollments. An increase in self-insured enrollments reduced the number of UnitedHealth Group's fully-insured enrollments. Employers opt for self-insurance when they're aware that their employee group has low claims experience. This removes the low-risk employees from the fully-insured segment. It leaves the fully-insured category with high-risk members.
Higher medical expenses distributed over a smaller group leads to increased medical costs and premiums for fully-insured people. This alienates the healthier population from these plans. This risk can lead to an overall decline in the company's revenue as more people opt for self-insured plans. To learn about fully-insured and self-insured plans, read Shift to self-insurance plans affects health insurance stocks.
Competition risk