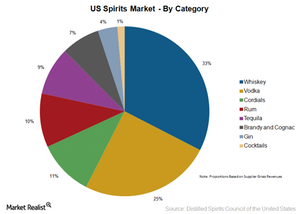 Key Categories of the Spirits Market
Key categories
Distilled spirits are alcoholic beverages obtained by distillation of fermented mixtures. There are various types of distilled spirits or liquor such as whiskey, rum, vodka, tequila, and gin. These categories differ based on ingredients and method of distillation. For instance, rum is made from fermented and distilled cane sugar, whereas tequila is made from fermented sugars from the agave.
Article continues below advertisement
Categories of spirits
Whiskey is the largest category of the US spirits market with a 33% share of total supplier gross revenues of $23.1 billion for spirits. Vodka, cordials, and rum hold 25%, 11%, and 10% of the spirits market share, respectively.
Tequila, brandy and cognac, and gin accounted for 9%, 7%, and 4% of the total spirits revenues, respectively. Whiskey also dominates the flavored spirits market. Customers are increasingly opting for flavored spirits. Flavored products, whether vodka, rum, or whiskey, grew by 1.9 million cases in 2014.
Diageo (DEO) (DGE.L), Pernod Ricard (PDRDY) (RI.PA), Beam Suntory, Brown-Forman (BF.B), Sazerac Company, LVMH Moet Hennessy Louis Vuitton (LVMUY) (MC.PA), and Constellation Brands (STZ) are some of the top spirits producers.
Beverages are part of the consumer staples sector, which constitutes 9.70% of the SPDR S&P 500 ETF (SPY) and 10.4% of the iShares Russell 1000 Growth ETF (IWF). The Consumer Staples Select Sector SPDR Fund (XLP) has 19.6% exposure to beverage companies.
Revenue growth for 2014
Of all the spirits categories, brandy and cognac registered the highest revenue growth of 10.3%, reaching $150 million. According to the Distilled Spirits Council of the United States, whiskey continued its growth streak by driving a 7.4% increase in revenues to $520 million.
The premium price point posted the maximum growth in the brandy-cognac and whiskey categories. Tequila revenues grew by 4%, mainly due to the super premium category. These trends have a positive impact on companies such as Diageo, Brown-Forman, and Constellation Brands (STZ).
Overall, the spirits business gross revenues increased by 4% to $23.1 billion, driven by higher demand for brown liquor and premiumization, the demand for better and more expensive liquor.