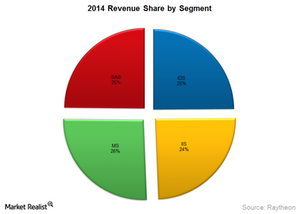 What Should Investors Know About Raytheon?
By Ally Schmidt

Mar. 16 2015, Updated 7:06 p.m. ET
Introduction
Raytheon (RTN) was formed in 1922 by Vannevar Bush, Charles G. Smith, and Laurence Marshall. The company has a long history of innovation over the past 92 years. Currently, it's headed by Thomas A. Kennedy.
Raytheon is a leading technology company. It provides products and services globally in the defense, civil, and security markets. The company provides mission systems integration, cybersecurity, mission support services, electronics, and services in the areas of effects, command and sensing, communications, and intelligence systems.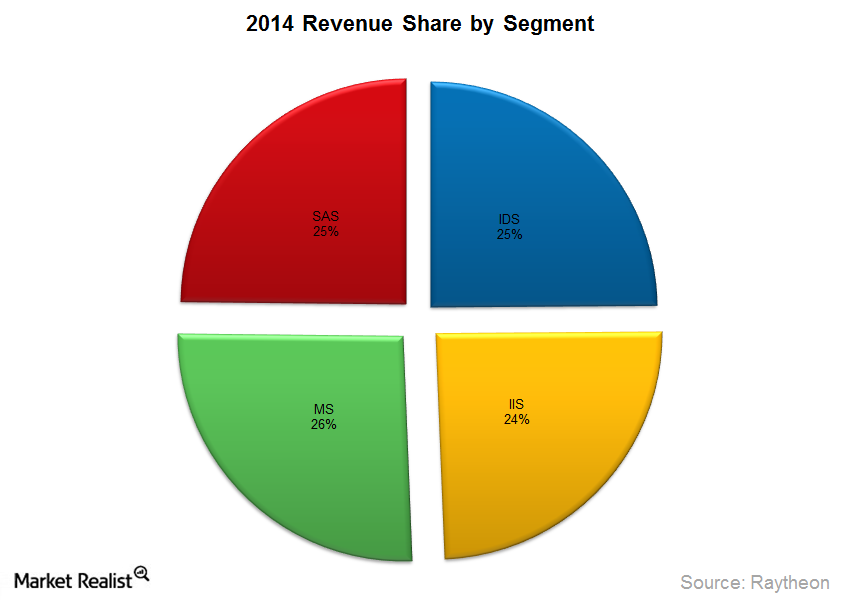 Article continues below advertisement
Capabilities
Some of the company's key capabilities are sensing. This includes RF (radio frequency) sensing radars—EW (electronic warfare), EO (electro-optical)/IR (infrared) sensing, acoustic sensing, C3I (Command, Control, Communications and Intelligence), kinetic and non-kinetic energy, mission support, and cybersecurity.
Business segments
The company primarily operates in four business segments:
• Integrated Defense Systems
• Intelligence, Information and Services
• Missile Systems
• Space and Airborne Systems
All of its segments contribute equally towards its revenue—as shown in the above graph. The company isn't highly dependent on the success of any one of the segments.
Article continues below advertisement
Global presence
Raytheon has a presence in ~80 countries. It banks on building strong international relationships to meet the national security and technology needs of nations around the world. The company's offices are spread over 19 countries. The offices span the United Kingdom, Spain, France, Germany, Canada, and Australia.
Other companies
The company faces competition both domestically and internationally. Other companies in the aerospace and defense segment are Honeywell (HON), General Dynamics (GD), Exelis (XLS), and Northrop Grumman (NOC). Together these companies, except for Exelis, form an ~5% holding of the iShares Select Dividend ETF (DVY). It has various companies in the international market.
In the next part of this series, we'll look at how the company performed in fiscal year 2014.