Net interest income
Taking deposits and lending money is the most basic function of a bank. Banks usually charge higher interest on the money it lends than the interest it pays on deposits. The difference between interest earned and paid is called a bank's net interest income.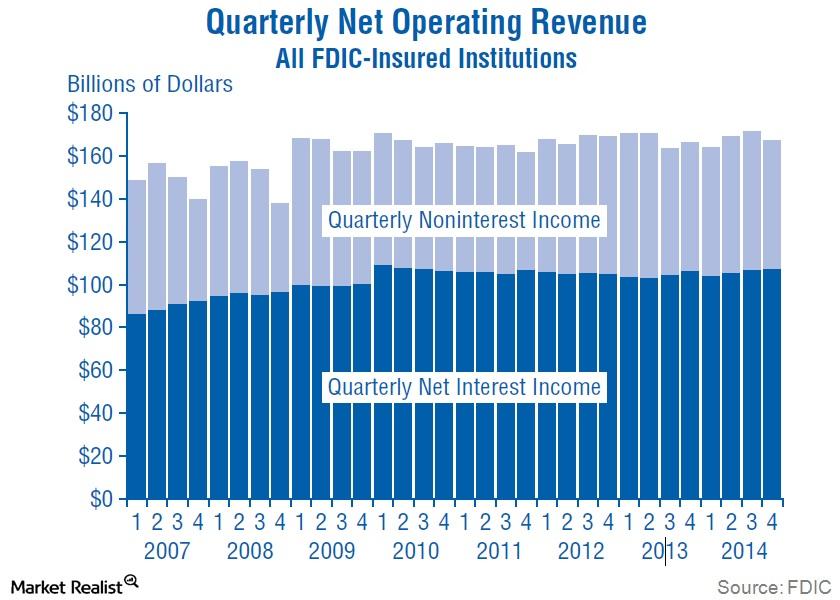 Banks play a crucial role in mobilizing savings for productive investments. This forms the basis of economic growth.
Article continues below advertisement
Non-interest income
Banks provide a number of other services in addition to lending and depositing money. For example, they provide credit and debit cards to their customers. Banks also charge fees for deposit services, processing loans, card services, and other services.
Banks also perform capital market oriented activities such as underwriting, mergers and acquisitions, advisory, marketmaking, research, and a host of other services. For all the services offered, banks charge certain fees. Income earned through fees and other charges is called non-interest income.
Four big banks – JP Morgan (JPM), Bank of America (BAC), Citigroup (C), and Wells Fargo (WFC) – are the key players in the US banking sector. They control 45% of the industry's total assets. Together, these four banks form ~27% of the Financial Select Sector SPDR ETF (XLF).
Importance of interest income
The sum of net-interest income and non-interest revenues are a bank's net operating revenues. Expenses other than interest are deducted from net operating revenues to arrive at a bank's net income.
The chart above shows the breakdown of net operating revenues into net-interest and non-interest income for FDIC- (Federal Deposit Insurance Corporation) insured institutions in the United States. Interest income typically contributes more than 60% to a bank's total operating income.
Thus, interest income plays a key role in a banks' performance.
In this series, we'll be looking at some key indicators that are poised to impact the US banking industry's performance in the near future.