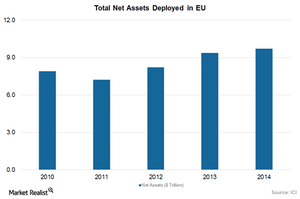 Fund Flows Continue to Rise in the European Union
Higher flows in 2015
Fund flows in European equities (EFA) have expanded at a slower pace since 2011. Overall, they've grown at an average of 10% over the past three years. But in 2015, the flows have been at a good pace, reflecting the improved investor confidence due to the European Central Bank's quantitative easing push to the economy. ETFs tracking European Union equities like the Wisdomtree International Hedged Equity Fund (HEDJ), Vanguard FTSE Europe ETF (VGK), and iShares MSCI EMU Index Fund (EZU) have attracted a good amount of flows in 2015.
The flows in the current year will depend on multiple factors, such as:
inflation data for the members of the European Union
economic conditions in the European Union
meeting decent earnings expectations
loan repayments by Greece, Spain, and Ireland
relative performance by the US, Japan, and emerging markets
Article continues below advertisement
Impact on asset managers
Asset managers and ETFs have already seen investor interest in European Union equities in 2015. Focusing on European Union equities, the WisdomTree Europe Hedged Equity Fund (HEDJ) and Deutsche X-trackers MSCI EAFE Hedged Equity ETF (DBEF) together have raised the highest amount of $12 million in 2015. Asset managers like BlackRock (BLK), Blackstone (BX), Vanguard, and State Street (STT) are using current and new funds across mutual funds and ETFs to meet investor demand for European equities.