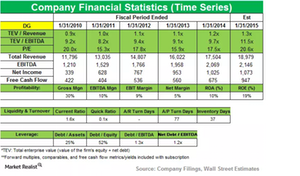 Farallon Capital Increases Its Position in Dollar General
Farallon Capital and Dollar General
Farallon Capital has increased its position in Dollar General (DG) by more than $101 million. It represents 1.78% of the total portfolio in 4Q14, up from 0.47% in 3Q14.
Article continues below advertisement
Company overview
Dollar General Corporation (DG) operates more than 11,000 stores across the US, mainly in the Southern, Southwestern, Midwestern, and Eastern regions of the country. The discount retailer offers a broad selection of merchandise, including:
food
paper
cleaning supplies
pet care items
tobacco products
seasonal goods
home decor
kitchenware
basic apparel
Family Dollar Stores shareholders reject merger deal with DG
In the last few months, Dollar General was in the race to acquire Family Dollar Stores (FDO), along with rival firm Dollar Tree (DLTR). Dollar General proposed to acquire Family Dollar Stores for $9.5 billion, but the shareholders of FDO approved a $8.7 billion cash and stock merger with Dollar Tree instead. Shareholder approval was delayed twice, as DG offered a more lucrative deal to FDO.
Dollar General makes up 1.01% of the Consumer Discretionary Select Sector SPDR Fund (XLY). Family Dollar Stores and Dollar Tree are also part of XLY, accounting for 0.34% and 0.74% of the ETF, respectively. The Consumer Discretionary Select Sector SPDR Fund also holds 6.35% of retailer Home Depot (HD) and 5.11% of online e-commerce giant Amazon (AMZN).
Article continues below advertisement
Dollar General to focus on growth, increase retail stores
Earlier this year, Dollar General had outlined its plans for fiscal 2015, mainly focusing on growth and expansion of its retail stores. As of January 2015, DG had a total of 11,800 stores. It is planning to open an additional 730 stores by the end of 2015, with an additional 900 stores in 2016.
In 2015, Dollar General plans to relocate and remodel approximately 875 stores.
DG announces record 4Q14 results
In March 2015, Dollar General reported revenues of $4.94 billion in 4Q14, compared to revenues of $4.49 billion in 4Q13. The net income of the firm also increased from $322 million earnings per share (or EPS), or $1.01 per share, in 4Q13 to $355 million EPS, or $1.17 per share, in 4Q14.
There was an increase of 4.9% in same-store sales due to increased customer traffic, as well as its average transaction amount.
Article continues below advertisement
2014 results
For 2014, Dollar General reported net sales of $18.9 billion, an increase of 8% compared to sales of $17.5 billion in 2013. Some highlights from 2014 were:
Same-store sales increased by 2.8% on a year-over-year basis.
Merchandise inventories increased by 9%.
Capital expenditure spending of $127 million for improvements and remodeling, $102 million for leased stores, $38 million for new store set up, and $35 million for information system upgrade.
Dollar General expects sales to increase by 8%–9% in fiscal 2015, with EPS of $3.85–$3.95.
Shareholder value
In fiscal 2014, Dollar General increased shareholder value by repurchasing 14.1 million shares for $800 million under its share repurchase program. Since 2011, the firm has repurchased 44 million shares for approximately $2.3 billion.
The next article in this series explores Farallon Capital's position in Family Dollar Stores.