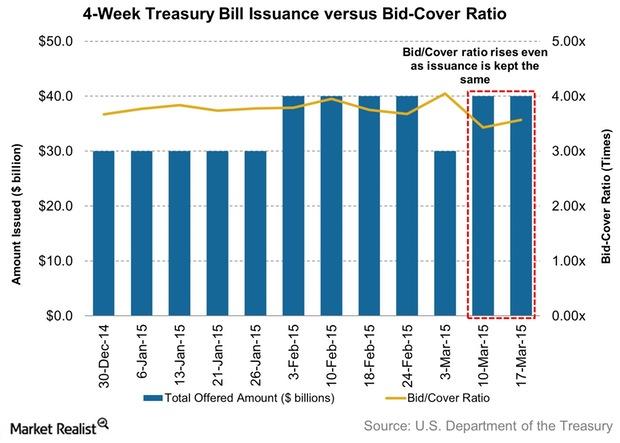 Demand Returns for Four-Week Treasury Bills Auction
By David Ashworth

Nov. 20 2020, Updated 3:27 p.m. ET
Four-week Treasury bills auction
The U.S. Department of the Treasury conducted its weekly auction for four-week Treasury bills (or T-bills) on March 17. The issuance was $40 billion, the same as the previous week.
The bid-to-cover ratio for these bills, depicting overall demand, rose from 3.4x to 3.6x week-over-week. Coverage at the one-month T-bills (BIL) (MINT) auction has averaged 3.8x so far in 2015, down from 4.4x for all the auctions held in 2014.
The high discount rate for the March 17 auction came in at 0.050%, more than three times higher than 0.015% a week ago.
Article continues below advertisement
Market demand rises
Along with stronger overall demand, market demand for the four-week Treasury bills also rose from the previous week. The percentage of indirect bids rose from 15.4% to 20.9% week-over-week.
Indirect bidders include foreign central banks. However, domestic investors' interest in the auction continued to fall compared to the previous week as the percentage of direct bids dropped from 6.1% to 3.0% week-over-week. Direct bidders include domestic money managers such as BlackRock (BLK) and Wells Fargo (WFC).
The share of primary dealer bids fell from 78.5% in the previous week to 76.0%. Primary dealers are a group of 22 broker dealers authorized by the Fed. They're obligated to bid at U.S. Treasury auctions and take up the excess supply. They include firms such as J.P. Morgan Securities LLC (JPM). JPM is part of the SPDR Financial Select Sector Fund (XLF) and the SPDR Dow Jones Industrial Average ETF (DIA).
For more bond market trends and analysis, please visit Market Realist's Fixed Income ETFs page.