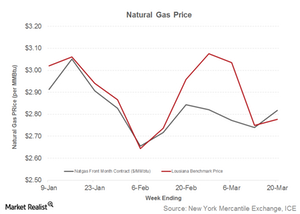 Why A Marginal Rise in Natural Gas Prices Helped Coal
By Mike Sonnenberg

Updated
Natural gas prices
The shale gas boom led to a massive rise in production. It also led to a fall in natural gas prices. As a result, natural gas became a competing fuel for coal. It ate away market share from coal in electricity generation.
Natural gas prices and coal's market share in electricity generation are related. When natural gas prices rise, coal gains market share. It becomes more economical to burn coal for power generation. A fall in natural gas prices generally leads to a drop in coal's market share. Natural gas is available at cheaper rates.
Article continues below advertisement
Week ended March 20
Natural gas prices increased marginally during the week ended March 20. The Henry Hub benchmark price dropped to $2.78 per million British thermal units, or MMBtu, from $2.75 a week earlier.
During the same period, the front month contract prices increased to $2.81 per MMBtu compared to $2.73 a week earlier.
Impact on coal and utilities
A rise in natural gas prices is positive for coal producers (KOL) like Alpha Natural Resources (ANR) and Arch Coal (ACI), as natural gas becomes more expensive as a fuel in electricity generation against coal. For utilities such as PG&E (PCG) and Southern California Edison (EIX), the impact depends on the level of regulation. If their contracts are strictly on a cost-plus basis—where they get a fixed return over and above costs—the natural gas price rise doesn't impact them much. For utilities with fixed price contracts—where they get a fixed price irrespective of changes in input costs—the rise in natural gas prices is positive.