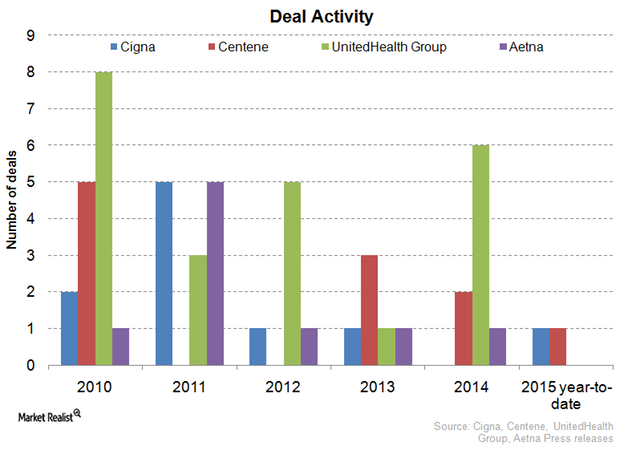 Cigna Diversifies Via Mergers and Acquisitions
Mergers and acquisitions strategy
The main objective of Cigna's M&A (mergers and acquisitions) strategy is to diversify the company's business portfolio across products and markets.
The graph below shows the total M&A deal count for Cigna (CI) and its major competitors in the private health insurance industry (IYH)—UnitedHealth Group (UNH), Centene (CNC), and Aetna (AET)—from 2010 to 2015 year-to-date.
Cigna's major strategic transactions include a joint venture with Finans Emeklilik in Turkey, and the acquisitions of Great American Supplemental Benefits Group and HealthSpring.
Article continues below advertisement
Article continues below advertisement
Finans Emeklilik
In 2012, Cigna acquired a 51% share in Finans Emeklilik, the sixth-largest life and pension provider in Turkey and a subsidiary of Finansbank. Cigna paid a cash price of approximately $116 million for the share. In exchange, Cigna has a 15-year exclusive, long-term distribution agreement with Finansbank for marketing its life and pension products through the bank's 500 retail–branch network in Turkey. The transaction has enabled Cigna to offer insurance services to the growing middle class in Turkey.
Great American Supplemental Benefits Group
In 2012, Cigna acquired Great American Supplemental Benefits for a consideration of $326 million. Great American Supplemental Benefits mainly offers supplemental insurance products for Medicare members. The supplemental insurance, for which Medicare members pay extra, provides coverage for out-of-pocket payments required by the Medicare policy. This acquisition has helped Cigna diversify its product offerings and increase customer engagement.
HealthSpring
Cigna acquired HealthSpring in 2012 for a consideration of $3.8 billion. HealthSpring provided MA (Medicare Advantage) services in 15 states in the US and the District of Columbia, as well as stand-alone Medicare prescription drug services. The acquisition added HealthSpring's government-sponsored enrollments to Cigna's portfolio, helping it diversify its commercial-focused business mix.