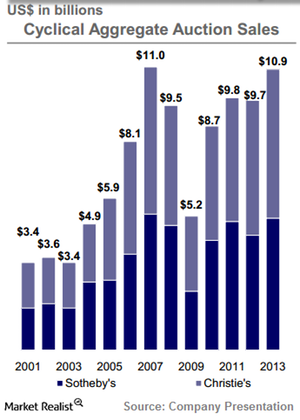 Christie's Maintains Lead over Sotheby's
By Stuart McKenzie

Mar. 20 2015, Updated 3:05 p.m. ET
Increased online presence and geographic footprint
We noted previously that Sotheby's (BID) has had a poor return on capital and that this could be due to a loss of business to rival Christie's. This article will elaborate upon how Christie's obtained the upper hand over Sotheby's.
While Sotheby's was facing Daniel Loeb's activist pressure, the new management team at Christie's was implementing a global strategy. Christie's has been outperforming Sotheby's in the contemporary and modern art market. In 2014, Christie's posted $6.8 billion in auction sales, while Sotheby's saw $6 billion in auction sales.
Article continues below advertisement
As we mentioned earlier in this series, Christie's has been focusing on investing in e-commerce and entering new markets such as China and India. Sotheby's has been trying to forge partnerships with online retail players such as eBay (EBAY) and Amazon (AMZN) in order to stay relevant in the online auction space.
Competition for Chinese art market share
Over the last two decades, China has become the world's second-largest art market. Artnet.com noted that the whole market for China's art and antiques totaled $8.5 billion in 2013. This was a 28% increase from 2012.
Both Sotheby's and Christie's entered the Chinese market in 1994, but Sotheby's has not grown there as much as Christie's has. China is the third-largest market for Sotheby's behind the US and the UK. Business in China brought in 18% of the company's total 2014 revenues, and for Christie's, "Asian clients accounted for 27% of all sales globally" that same year.
Sotheby's operates in China as a joint venture, but the company has been trying to obtain a license to function independently.
Focus on "high-value lots"
Reports noted that Sotheby's has failed to focus on art sales towards the lower end of the market. Margins for the high-end art market are subject to competitive pressures, but auction houses can earn full commissions at the lower end of the market.
In an October 2013 letter to Sotheby's, Loeb said, "The company intends to focus on 'top clients' and high-value lots, and shun the lower-value lots that its top competitor has effectively captured by leveraging new technologies. Despite this 'focus,' Sotheby's market share relative to Christie's in items over $1 million actually trails its overall market share."
Loeb went on to question whether this strategy was helping Christie's to forge relationships with new collectors and whether the privately owned company was successfully using the strategy against Sotheby's at the top end of the market. Christie's gained from catering to all segments of the market.
If you want to gain exposure to the specialty retail or luxury goods segments, consider investing in the Vanguard Total Stock Market ETF (VTI). Sotheby's has a 0.01% representation in this ETF. The company also makes up 0.14% of the iShares Russell 2000 ETF (IWM).
The next article in this series will discuss why the financial performance of Sotheby's has prompted activist investors such as Marcato Capital to intervene.