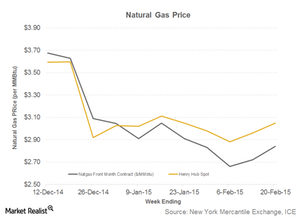 Challenges before Peabody Energy's US operations in fiscal 2015
Weak natural gas prices
Over the past decade or so, companies have invested heavily in exploration for shale gas, or natural gas trapped in rock formations. This led to a natural gas production boom in the US. With this boom, prices fell considerably from what natural gas cost a decade ago.
As a result, the natural gas alternative presents a formidable challenge for coal producers. As a primary source of power generation—particularly in the eastern US—natural gas is the preferred fuel.
Natural gas prices have dropped below $3 per MMBtu this winter, enough to put pressure on even the low-cost Powder River Basin (or PRB) coal. While prices are recovering marginally since last couple of weeks, it is primarily because of winter demand.
Article continues below advertisement
Article continues below advertisement
Coal plant retirements
Two major blows to the US thermal coal industry are the retirement of coal-fired power plants and the possible impact of new regulations proposed by the US Environmental Protection Agency (or EPA). The deadline to comply with EPA's Mercury and Acid Toxic Standards (or MATS) ends April 2015.
As a result, around 12 gigawatts (or GW) of coal-fired capacity is expected to be retired this year. Plus, new EPA regulations are targeting carbon emissions from power plants.
Uncertainty about coal export infrastructure
PRB coal producers such as Arch Coal (ACI), Peabody Energy (BTU), Cloud Peak Energy (CLD), and Alpha Natural Resources (ANR) are eyeing exporting low-cost PRB coal to demand centers in Asia amid weakness in domestic demand.
However, environmental activist and regulators have challenged proposed coal export infrastructure in the Pacific Northwest. All major American coal producers are a part of the iShares Russell 3000 ETF (IWV).
Like its US operations, Peabody Energy's Australian operations also have its own set of challenges.