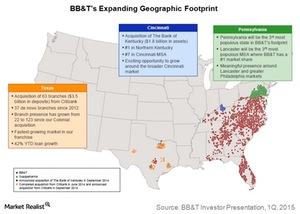 BB&T to Expand Its Footprint in Ohio and the Mid-Atlantic Region
Bank of Kentucky
In September 2014, BB&T (BBT) announced the acquisition of the Bank of Kentucky for $363 million. The acquisition gives BB&T presence in the northern Kentucky and Cincinnati market. It improves its market position in Kentucky. The Bank of Kentucky is the number one bank in northern Kentucky. It's the number seven bank in the Cincinnati MSA (metropolitan statistical area).
The deal opens further franchise build potential for BB&T in Ohio. It isn't limited to Cincinnati. It's a new and attractive market for BB&T. It's close to its current footprint. Fifth Third Bank (FITB) is the leading bank in Cincinnati. It captures more than one-third of the market. US Bancorp (USB) and PNC Financial (PNC) are the other leading banks in Cincinnati. Together, these three banks form~4.8% of the SPDR S&P Bank ETF (KBE) and ~6.4% of the iShares U.S. Financial Services ETF (IYG).
Article continues below advertisement
Article continues below advertisement
Susquehanna acquisition
In November 2014, BB&T announced its plans to acquire Susquehanna Bancshares. The deal is valued at ~$2.5 billion. It's one of the biggest announced deals in the banking sector since the crisis. The deal is expected to close in the second half of 2015. It hasn't been approved by regulators yet.
The merger will significantly expand BB&T's Mid-Atlantic footprint—including the Pennsylvania, Delaware Valley, and Maryland markets. Susquehanna has market presence in 12 of the 20 most affluent counties in Pennsylvania.
Strategic expansion
The Susquehanna acquisition will help BB&T expand its energy portfolio in Pennsylvania. Pennsylvania is the third largest natural gas producer in the US. Growth opportunities in Delaware Valley and Maryland are fueled by leading education, healthcare, and research institutions.
The above chart shows the footprint expansion that BB&T will achieve, after the announced mergers are completed. BB&T plans to focus on completing and integrating the Citigroup branch, the Bank of Kentucky, and Susquehanna acquisitions over the next year. It doesn't plan to undertake new deals until 3Q15.