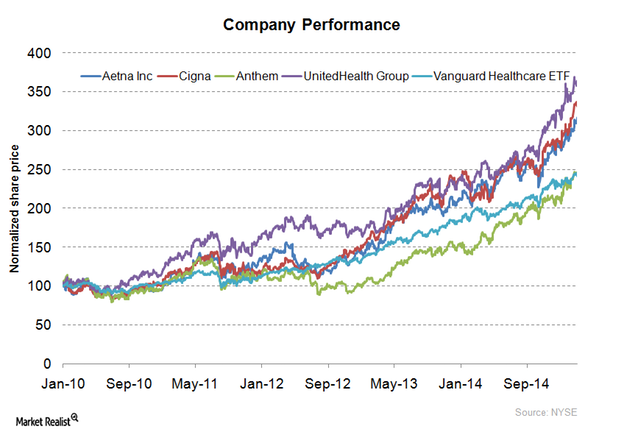 A Key Overview of Aetna, One of the Largest Insurance Providers
Overview      
With a market capitalization of $35.1 billion, Aetna (AET) is one of the largest insurance providers in the US. The company's headquarters is in Hartford, Connecticut. The company provides health benefits and services to about 23.5 million people in 19 states in the US.
Aetna registered revenues of approximately $58 billion in 2014. It was ranked 57th in the Fortune 500 rankings for 2014.
Article continues below advertisement
Article continues below advertisement
Share price
The above graph shows that Aetna, UnitedHealth Group (UNH), and Cigna (CI) have consistently outperformed the Vanguard Health Care ETF (VHT). UnitedHealth Group has been the best performer and delivered 29.1% capital gains on an annualized basis from January 2010 to March 2015. Anthem (ANTM), Cigna, and Aetna registered 19.4%, 27.1%, and 26% annualized capital gains, respectively.
History
Founded in 1853, Aetna was organized as a life insurance company that later expanded into other lines of insurance coverage. Aetna listed its stock on the New York Stock Exchange in 1968. In 1975, the company created an HMO (health maintenance organization) subsidiary and entered the managed healthcare space. To know more about managed health care, please refer to Your must-read guide to health insurance managed care plans.
Article continues below advertisement
In 1996, the company divested its property and casualty business and merged with US Healthcare, an HMO company, to provide health insurance and financial services. Through the 90s, the company rapidly increased its healthcare membership base through acquisitions such as that of NYLcare Health Plans and Prudential Healthcare. This was followed by a series of divestitures and spin-offs, removing financial services and hospital business from the Aetna Group.
Aetna has been at the forefront while expanding its product portfolio and market reach. The company has made acquisitions to attract new customer segments, strengthen its health provider network, and adopt latest health technologies. In 2013, Aetna acquired Coventry Health Care, a managed care organization, making the combined entity the third largest health insurance company in the US based on membership.