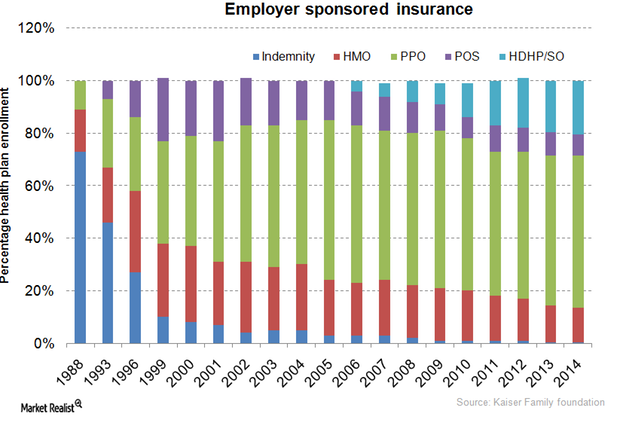 Your must-read guide to health insurance managed care plans
Managed care enrollments
Managed care organizations, an integral part of the US healthcare industry (XLV), were established to improve the quality of care and reduce the cost of providing health benefits.
Employer-sponsored coverage accounts for 48% of the total population in the US. It's key factor for nationwide enrollment trends of managed care plans and independent insurance plans. In 2014, about 80% of insured employees were covered by managed care plans such as preferred provider organizations (or PPO), health maintenance organizations (or HMO), and point of service (or POS) plans. Indemnity plans and high-deductible plans with savings options (or HDHP/SO) together accounted for about 20% of insured employees.
Article continues below advertisement
HMO plans
An HMO plan is a managed care plan where the insurance company bears the risk of claims, also called the "underwriting risk." In an HMO plan, the managed care organization enters into a contract with a set of healthcare providers, called the plan's "network," to provide care for plan members at reduced costs. The plan appoints primary care physicians (or PCPs) to act as gatekeepers and check members to ensure they require specialty and non-emergency services. If the member approaches an out-of-network health provider for non-emergency services, the chances of reimbursement in the HMO plan are limited.
PPO plans
Even though PPO plans are more expensive than HMO plans, the majority of the US population has preferred the PPO plan structure. It provides more flexibility than HMO plans. A PPO plan may or may not bear underwriting risk. It, however, provides reimbursement if a member accesses out-of-network medical services. Also, a PPO plan doesn't require a PCP referral for specialty services. Major managed care organizations such as Aetna (AET), Humana (HUM), Cigna (CI), and Anthem (ANTM) provide both PPO and HMO plans.
POS plan
A POS plan is a hybrid of an HMO and PPO plan. Like with an HMO plan, members are assigned to a PCP for referral to specialty services. Like with a PPO plan, members are reimbursed despite accessing out-of-network medical services.