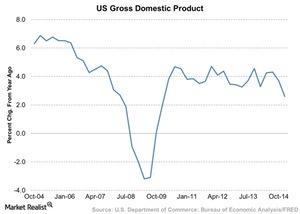 Why US Gross Domestic Product Growth Impacts Restaurants
Industry classification
The restaurant industry is part of the consumer discretionary sector—as classified by the GICS (Global Industry Classification Standard). Consumer discretionary stocks—like those held by the Consumer Discretionary Select Sector SPDR (XLY)—consists of non-essential goods and services like retail businesses, automobiles, and hotels.
This sector does well when the economy is expanding. It does poorly when the economy is contracting. In other words, it's cyclical. Gross domestic product, or GDP, is the value of goods and services produced in the US. It indicates the health of the economy. It's a good place to start understanding how macroeconomic trends affect the food services or restaurant industry.
Article continues below advertisement
US GDP growth slows
The BEA (U.S. Bureau of Economic Analysis), reported a GDP growth of 2.6% in the fourth quarter. It was based on "advance" estimates—compared to a growth of 5% in the third quarter. The economist survey in The Wall Street Journal estimated it to be at 3.3%.
The US economy went into a recession between December 2007 and June 2009. This led to a dip in GDP, as we can see in the above chart. During recessionary stages, people tend to spend less on non-essential items like dining out. Instead, they prefer cooking meals at home. So, grocery sales for retailers—like Walmart (WMT), Costco (COST), and Kroger (KR)—aren't affected as much as restaurant stocks—like Yum! Brands (YUM), Darden Restaurants (DRI), McDonald's (MCD), and Texas Roadhouse (TXRH)—during a downturn.
Restaurants—like Chipotle Mexican Grill (CMG)—that particularly operate in the US, are impacted more than the restaurants mentioned above. The previously mentioned restaurants have well spread international operations. XLY holds 1% of Chipotle Mexican Grill.
Retail trade sales
The U.S. Census Bureau reports data for retail trade sales. It includes data for food services and drinking places in addition to grocery sales. Given the strength in the economy, we'll discuss these indicators in more detail in the next part of this series.