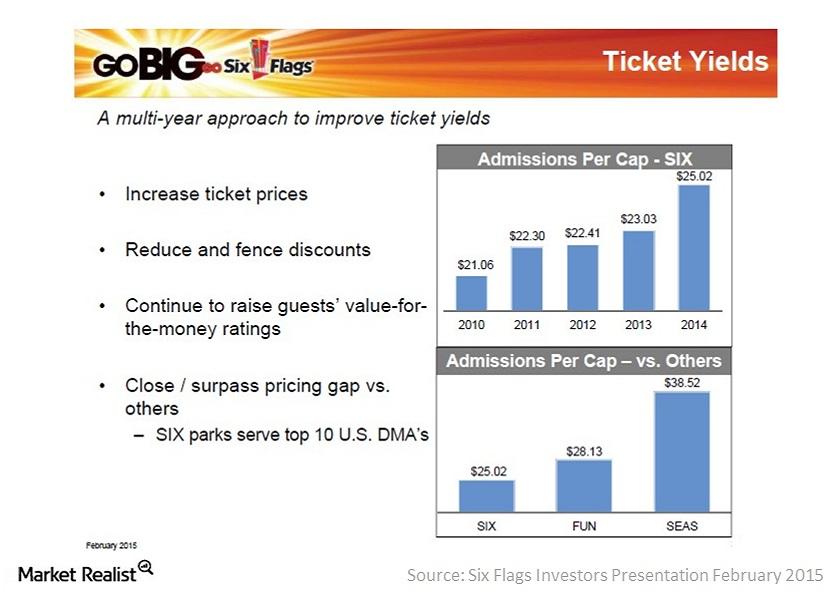 Ticket pricing pushes Six Flags' admissions revenue up
Improving ticket yields
Six Flags Entertainment's (SIX) admissions revenue per capita increased by 9% in 2014 compared to 2013. The increase in admissions revenue per capita was primarily driven by continued pricing improvements on both multi- and single-use ticket offerings.
Admissions revenue per capita was also driven by reduction in discounts and promotions as well as continued growth in the number of guests enrolled in the company's membership program. These guests have remained members following the initial 12-month term and continued to pay on a month-to-month basis. This allowed the company to record its revenue on the lower attendance base.
The increase in admissions revenue per capita was partially offset by continued increases in the season pass and membership attendance mix. This lowers admissions revenue per capita but increases overall admissions revenue.
The above chart shows that Six Flags has the lowest admissions revenue per capita of $25.02, compared to Cedar Fair (FUN) at $28.13 and SeaWorld Entertainment (SEAS) at $38.52 for the latest period.
Article continues below advertisement
Article continues below advertisement
Investing through ETFs
Investors who want to hold a diversified portfolio in leisure companies can invest in ETFs such as the Consumer Discretionary Select Sector SPDR Fund (XLY). Investors who are looking to invest in dividend paying companies may hold their portfolio in Global X SuperDividend (DIV). DIV tracks the performance of companies that rank among the highest dividend yielding equity securities in the United States. DIV has ~2.1% exposure in Six Flags.