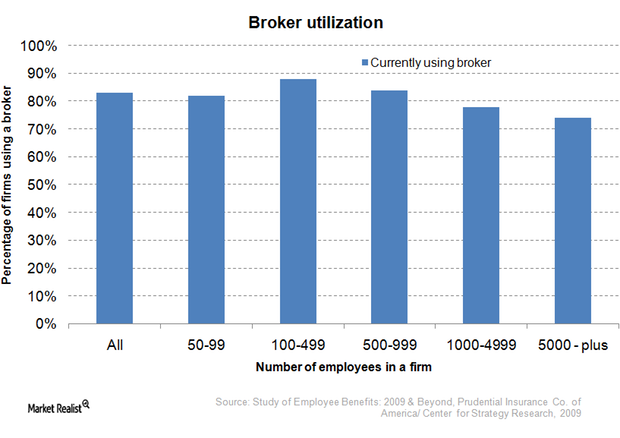 Must-know distribution channels for commercial health plans
Distribution channels
The private health insurance industry (XLV) categorizes commercial health plans, which involve individual- and employer-sponsored coverage, as either individual plans, small group plans, or large group plans. Managed care organizations such as Aetna (AET), UnitedHealth Group (UNH), Cigna (CI), and Anthem (ANTM) hire brokers and consultants to act as intermediaries selling commercial health plans.
Article continues below advertisement
Article continues below advertisement
Employer-sponsored insurance
Employer sponsored health insurance involves either new sales or renewals of existing customer accounts, with a broker acting as an intermediary in almost 83% sales. The graph shows that the involvement of brokers is higher for smaller employers with up to 1,000 employees, which is gradually replaced by consultants for large employers.
The Affordable Care Act (or ACA) has opened a new online distribution channel specially to reach small employers. It's called the Small Business Health Options Program (or SHOP). Insurance companies can sell health benefit plans to small employers with fewer than 50 employees starting in 2015. From 2016, they can sell insurance plans to employers with 100 or fewer employees. The easy access to health insurance plans following the ACA is also leading to a shift of employer-sponsored coverage from the defined health benefit plan, where the employer pays for a portion of the employee's health benefits to defined contribution plans. In the latter, the employer pays a lump sum to the employee, who then chooses a health plan according to their needs. This has led to the increasing use of the private insurance exchange, which is a website selling insurance.
Individual insurance
The ACA requires that states establish public health insurance exchanges. These are websites where individuals can compare the prices and benefits of health plans and buy insurance according to their requirements. If the state doesn't set up an insurance exchange, individuals buy health insurance through the federal exchange Healthcare.gov. Buying health insurance through these exchanges is possible only in the open enrollment period, which starts from November 15 each year and ends on February 15.
Other modes of distribution involve brokers selling insurance products. Recently, very few health plans have set up retail stores for increasing consumer engagement.