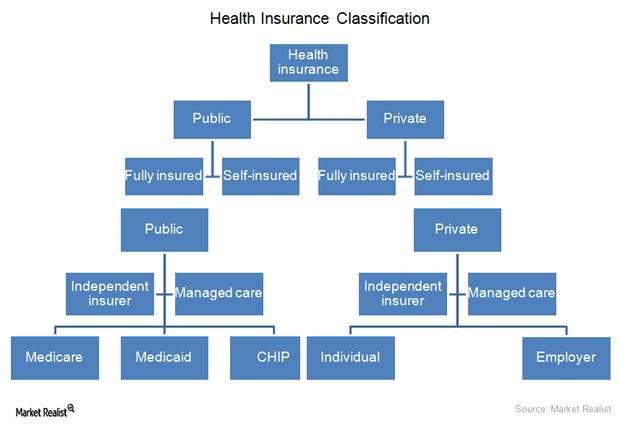 Making sense of health insurance types: An investor's guide
Health insurance industry
The healthcare insurance industry, part of the healthcare industry represented by the Healthcare Select Sector SPDR ETF (XLV), is categorized based on sponsors, public or private sectors, and the risk assumed by the insurer as either fully insured or self-insured.
In fully insured plans, the sponsor contracts with another organization, an insurance company or managed care organization, to assume responsibility for all of the enrollee's claims. For self-insured plans, the sponsor assumes the responsibility for the enrollee's claims while paying only fees to the insurance industry for administrative support.
Article continues below advertisement
Article continues below advertisement
Types of plans
The health insurance industry operates through two types of organizations: independent insurance companies and managed care organizations. According to the trade association America's Health Insurance Plans (or AHIP), about 90.0% of insured Americans are enrolled in healthcare plans by managed care organizations such as Aetna (AET), Humana (HUM), Cigna (CI), and Anthem (ANTM).
Independent insurance companies offer traditional plans called indemnity health insurance plans, also known as "fee-for-service plans." In these plans, a certain amount or percentage of medical costs is reimbursed for a fixed premium. Unlike traditional insurance providers, managed care organizations enter into a contract with a set of healthcare providers, called the plan's "network," to provide care for members at reduced costs. Members in the managed care plan are also assigned a primary care physician (or PCP) and can access specialty medical services only if referred by the PCP, avoiding redundant use.
Based on the flexibility in opting for medical services out of the plan's network and the need for a PCP referral for specialty services that would be reimbursed by the plan, managed care plans are categorized into four main types: health maintenance organization (or HMO), preferred provider organization (or PPO), and point of service (or POS).