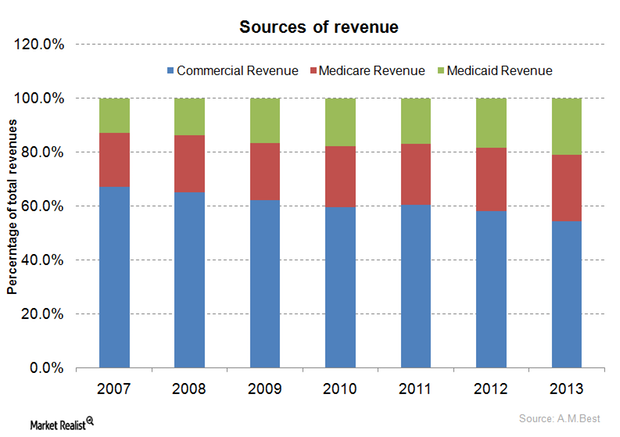 The health insurance industry's major sources of revenue: A guide
Sources of revenue
The private health insurance industry (XLV) mainly earns revenues from insurance premiums and administrative service fees. Plan sponsors pay premiums and administrative fees.
The share of commercial revenues within the private health insurance industry's total revenues decreased from 67.0% in 2007 to 54.3% in 2013. On the other hand, the share of Medicare and Medicaid revenues increased from 20.3% and 12.7% in 2007 to 24.8% and 21%, respectively, in 2013.
Article continues below advertisement
Government revenues
Government revenues are earned through Medicare and Medicaid. Medicare revenues comprise Medicare Advantage, Medigap, and Medicare prescription drug plans (or PDPs). Medicare advantage (or MA) is a managed care program offered by private insurers to Medicare beneficiaries. Medigap comprises commercial plans sold to Medicare beneficiaries for covering medical services that aren't covered by the original Medicare plan. Medicare PDP plans offer coverage for prescription drugs to Medicare beneficiaries either as stand-alone PDP plans or MA plans that include drug coverage (or MA-PD).
Managed care organizations such as Aetna (AET), Humana (HUM), UnitedHeath Group (UNH), and Anthem (ANTM) cover more than 17.07 million seniors in MA plans and an additional 23.54 million in PDP plans. Managed Medicaid is a managed care program sponsored by Medicaid and implemented by private insurance companies. It covers 68.53 million low-income people.
Commercial revenues
Commercial revenues involve employer- and individual-sponsored insurance plans. Employer-sponsored coverage, which covers 149 million non-elderly people, accounts for 48% of the total US population. According to S&P Capital IQ, however, by 2020, 90% of employees with employer-sponsored insurance are expected to shift to individual coverage. The easy access to health insurance exchanges following the Affordable Care Act (or ACA) is expected to lead to employers paying a stipend for employees to pay for health insurance rather than sponsoring the plan themselves.