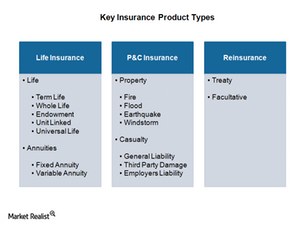 Life insurance, P&C insurance, and reinsurance
Types of insurance
An insurance policy is a contract between the insurer and the policyholder. The type of risk determines the type of insurance policy, whether it is a risk to the life or the property of the policyholder. Insurance businesses fall into two broad categories: life insurance and property and casualty (or P&C) insurance.
Primary insurance and reinsurance are another way to classify insurance businesses. Primary insurers engage in direct business with their policyholders. When you buy an insurance policy, you are actually dealing with a primary insurer. A reinsurer provides insurance to an insurer, sharing a portion of an insurer's risk against payment of some premium, known as a ceded premium.
Article continues below advertisement
Article continues below advertisement
An overview of life insurance
Life insurance contracts cover financial losses resulting from loss of life of the insured. In the life insurance business, contracts are mainly long-term in nature. There are various types of policies as shown in the chart above. These include plain vanilla term life policies that provide a payout in the event of the policyholder's death. Some life insurance policies have an investment component, such as the unit-linked policies.
Plus, life insurers offer retirement solutions in the form of annuity products. In the US, close to 50% of the life insurance premiums come from annuity-type products. Some life insurers also provide accident and health policies. Key players in the life insurance sector include MetLife (MET), Prudential Financial (PRU), and AFLAC (AFL).
Property and casualty insurance
P&C insurance contracts insure the policyholders from liability, risks to property, and casualty, such as damages to property due to calamities or from legal liabilities. P&C insurance is also referred to as non-life insurance. Unlike long-term life insurance policies, P&C contracts can be short-term and long-term in nature, also known as short-tailed and long-tailed contracts.
The various types of P&C business lines are outlined in the chart above. In many cases, P&C products have commoditized characteristics that result in intense competition in the market and business cycles. AIG (AIG) and ACE (ACE) are key players in the P&C space.
Some insurers may undertake only life or P&C insurance business, and other insurers manage both types of businesses, which make them a composite or a multi-line insurer. ETFs that focus on the insurance sector include the SPDR S&P Insurance ETF (KIE).