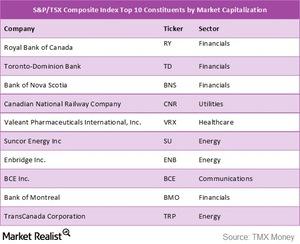 Key challenges facing the Canadian economy
Challenges facing the Canadian economy
Previously in this series, we looked at the fundamental strengths of the Canadian economy, namely, its foreign trade, resources, and strong financial system. These strengths have, historically, translated into good returns for the iShares MSCI Canada ETF (EWC) that invests in the large and mid-sized companies across various sectors in Canada, including banking, energy, and pharmaceuticals.
The Royal Bank of Canada (RY), Toronto Dominion Bank (TD), Suncor Energy (SU), and Valeant Pharmaceuticals International (VRX) are among the top ten holdings of EWC.
Article continues below advertisement
Article continues below advertisement
Meanwhile, like the two sides to every coin, there is a second perspective to be found on the Canadian economy. In the previous part of this series, we hinted at a concentration risk, which we'll look at more closely here. We'll also highlight two other very relevant macro challenges facing the Canadian economy.
Lack of diversification
As can be seen in the chart above, the Canadian market lacks diversification. More than 70% of the TSX Composite Index is made up of only three sectors—energy, materials, and financials. While there are a few strong utilities and telecommunications businesses to choose from across the country, the consumer retail and technology sectors are very much absent from the composite.
Brain drain to the US
The migration of some of Canada's best-educated and skilled workers to the US poses another challenge to an economy that thrives on its talent pool. Much of this brain drain is attributable to the lower taxes and higher wages in the US.
Then, there are some geopolitical and macro challenges that deter economic growth in the economy, as discussed next in this series.