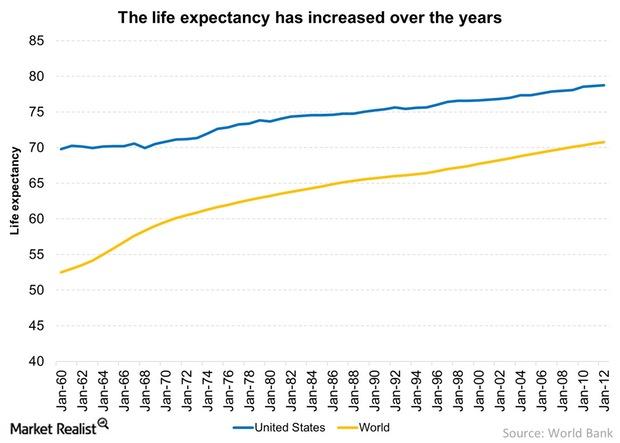 Increased Life Expectancy Means A Longer Investment Horizon
Chances are, millennials are going to live well into their 80s, if not their 90s, and will spend 20+ years in retirement. (Even today's average retiree is expected to spend 19 years in retirement, according to the US Social Security Administration.) Given continued advances in medicine and health, it wouldn't surprise me if my generation spent 30 years in retirement.
Living 90 years and 20 to 30 years in retirement means your savings have to last a long, long time. And that means you have to save and invest intelligently.
Article continues below advertisement
Market Realist – Increased life expectancy means a longer investment horizon.
The graph above shows how the life expectancy at birth changed since the 1960s—in the US (SPY) and the world (QWLD).
According to World Bank, "life expectancy at birth indicates the number of years a newborn infant would live if prevailing patterns of mortality at the time of its birth were to stay the same throughout its life." Improvement in life expectancy also depends on the improvement in the standard-of-living and the advancement in medicine and health (XLV).
With life expectancy increasing, young investors should invest in equities aggressively. They need to think long term. The next part in this series will explain the importance of long-term investing in equities. If you invest in equities periodically and keep your goals in mind, you will be able to get the best out of your portfolio.
Also, you may invest in bonds (LQD), gold (XAU), or other assets in order to diversify your portfolio and income in case of bonds. Diversification will help increase risk-adjusted returns for your portfolio.