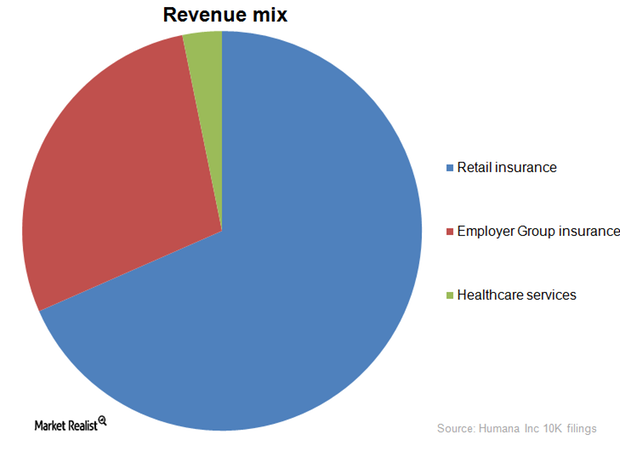 Humana's Retail Insurance business segment is biggest earner
Business segments
Players in the health insurance industry (XLV) rely on an optimal business mix that diversifies business risks while ensuring sustainable profits.
The graph below shows Humana's (HUM) three business segments. Here's how the segments break down in terms of total company revenues:
Retail Insurance – 66.5%
Employer Group Insurance – 27.6%
Healthcare Services – 3.1%
Article continues below advertisement
Retail insurance
Humana's Retail Insurance business segment is made up of the following:
individual Medicare advantage plans
Medicare stand-alone prescription drug plans
individual commercial plans
state-based Medicaid plans
individual specialty health insurance plans
MA (Medicare Advantage) is a health insurance program provided by managed care organizations such as Aetna (AET), UnitedHealth Group (UNH), and Anthem (ANTM) to Medicare beneficiaries. The MA program substitutes for Original Medicare and involves inpatient and outpatient services.
PDPs (Medicare stand-alone prescription drug plans), however, are additional health insurance plans provided to Medicare beneficiaries for prescription drug expenses. The premiums for individual commercial and individual specialty plans are much higher than government insurance and other group plans. As a result, penetration of individual plans remains low. The retail market is instead mainly dominated by government insurance programs.
Employer-sponsored insurance
Employer Group products consist of medical and supplemental benefit plans with varying payment options. Employers of all sizes can offer these to their employees either through fully insured or self-insured means. Fully insured insurance involves the insurance company taking responsibility for employees' claims while in the case of self-insured plans, the employer is responsible for the risks involved in the claims.
Fully insured employer insurance constitutes about 45.3% of the total employer coverage, followed by group MA coverage amounting to 41.7%. Self-insured plans account for only 9.8% of Humana's employer-coverage revenues.
Health coverage services
Aside from conventional insurance products, Humana offers these other Healthcare Services, through its subsidiaries, to plan members and third parties:
pharmacy solutions
provider services
behavioral health services
home care services
health technology services