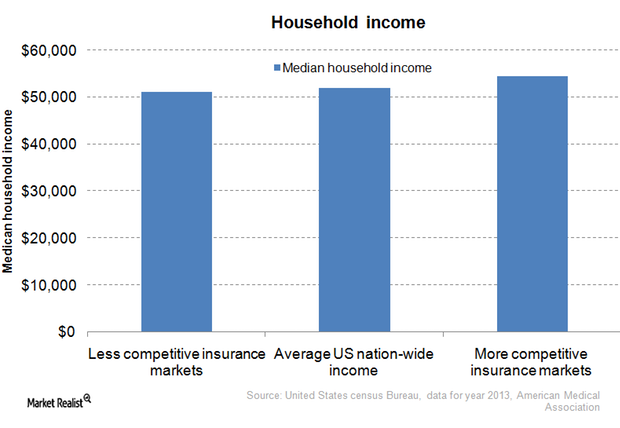 Health insurance monopolies: What you need to know
Competitive landscape
According a report from the Americal Medical Association (or AMA), the private health insurance industry (XLV) is highly concentrated—with 72% of total metropolitan areas lacking significant health insurer competition. The report also states that 17 states have a single insurer with more than a 50% market share and 45 states have only two dominant health insurers accounting for half of the enrollments in these states, giving rise to local market health insurance monopolies.
Article continues below advertisement
Monopolistic structure
The Affordable Care Act (or ACA) requires states to establish health insurance exchanges, also called "health insurance marketplaces," for individual and employers to buy health plans at competitive prices. However, these exchanges have been unable to attract new insurers in states with a highly concentrated insurance market, such as Alabama, Hawaii, and Michigan.
The above graph shows that the average household income in states with competitive health insurance markets is higher than the average US household income and the income in less competitive markets.
Also, the physician density in less competitive markets is much lower than the density in highly competitive markets. Insurance companies generally focus on markets with high household income levels, as this increases individuals' likeliness to buy insurance. Plus, the availability of a greater number of healthcare providers gives health insurance companies greater bargaining power when negotiating prices.
Outcome
The low penetration of key health insurance companies such as Aetna (AET), Humana (HUM), Anthem (ANTM), and UnitedHealth Group (UNH) in less competitive markets has resulted in a lack of choices and higher premiums for members in these states. New health insurance companies in these states are unable to negotiate for favorable prices from doctors and hospitals to compete with the existing dominant player. However, in states such as Alabama, members have benefited since the health insurance monopoly passes savings from pricing discounts with health providers on to customers.