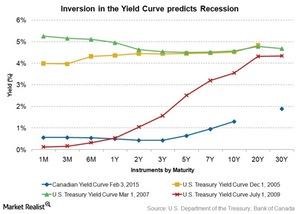 Could Canada's inverted sovereign yield curve mean recession?
Inversion in the yield curve
A yield curve plots the relationship between the short- and long-term interest rates on fixed income securities issued by the central bank of a country. Usually, interest rates are lower for shorter-term securities, and higher for longer-term securities. For more on this concept, read Must-know: A bond investor's guide to duration.
Because investors demand a higher yield to compensate for a higher-duration security, the yield curves are usually upward sloping. In rare cases, however, short-term yields may exceed long-term yields, causing an inversion in the yield curve. Sovereign bond yields in Canada are demonstrating this rare situation these days.
Article continues below advertisement
Article continues below advertisement
Is Canada's inverted sovereign yield curve spelling a recession?
Currently, the Canadian sovereign yield curve is inverted all the way out to three years. Yield on the Canadian six-month bill, one-year note, two-year note, and three-year note are all inverted. That's to say, they're lower than the yield on the one-month note. As well, yield on the one-year note is inverted with, or higher than, the two-year and three-year notes.
So, what implications does this have for the Canadian economy and for investors investing in it through the iShares MSCI Canada ETF (EWC)? What are the implications for banks such as Royal Bank of Canada (RY), Toronto Dominion Bank (TD), Bank of Nova Scotia (BNS), Canadian Imperial Bank of Commerce (CM), and Bank of Montreal (BMO) that give out mortgage loans in the country?
Treasury yield curve was inverted before US entered into recession
Usually an inverted yield curve predicts a recession. The US case substantiates this point. In the United States, yields on certain maturities along the Treasury yield curve had shown signs of an upcoming inversion beginning in December 2005. The yield curve became almost downward sloping by March 2007. The yield curve only went back to being a regular upward sloping curve, with no inversions, in July 2009. That is, the inversion reverted after the housing bubble burst in the US, and the economy was deep into recession.
Does that mean Canada is currently facing a real estate bubble? And, is the commodity-rich country heading towards a recession? Read on to find out.