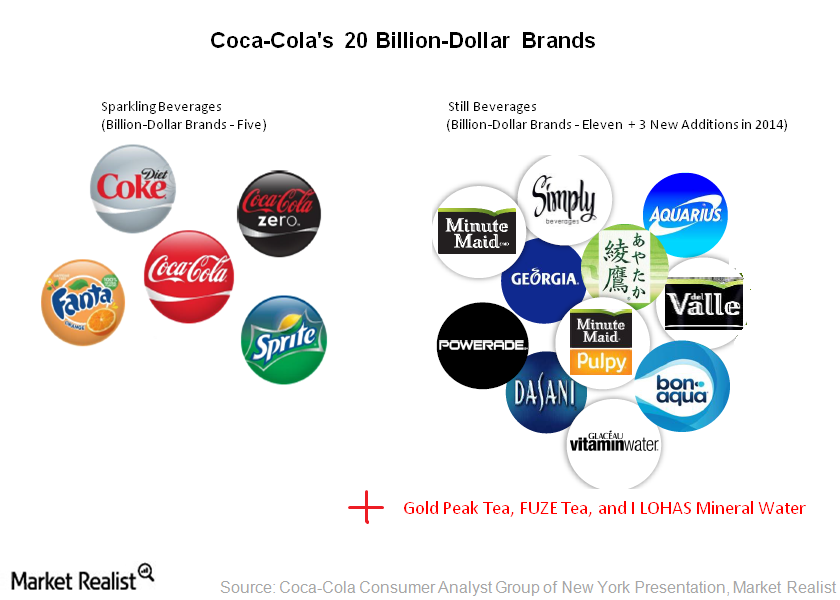 Coca-Cola's still beverages brands meet growing demand
Coca-Cola's brand portfolio
The Coca-Cola Company (KO) serves customers worldwide with more than 500 carbonated and still nonalcoholic beverage brands. At the beginning of 2014, the company had a portfolio of 17 brands that generated more than a billion dollars in annual retail sales.
The company's sparkling or carbonated beverage portfolio consists of six billion-dollar brands, including Coca-Cola, Diet Coke, Coca-Cola Zero, Fanta, Schweppes, and Sprite.
The company's still beverage portfolio consists of 11 brands that generate more than a billion dollars in sales. Three more still beverage brands touched the billion-dollar sales mark in 2014.
Article continues below advertisement
Still beverage brand portfolio
In 2014, Coca-Cola added three additional still beverage brands to the company's billion-dollar brands portfolio under the still beverages category. Coca-Cola's still beverages now include Gold Peak Tea, FUZE Tea, and I LOHAS mineral water. This reflects the rising demand for noncarbonated beverages such as ready-to-drink tea and enhanced water.
Gold Peak Tea
Gold Peak Tea is sold in the United States. It's a premium tea brand developed by Coca-Cola and launched in 2006. The tea is sold in multiple varieties. Gold Peak Tea is one of the rapidly growing iced tea brands. It accounted for nearly 30% of dollar growth in the ready-to-drink tea category last year.
Article continues below advertisement
FUZE Tea
FUZE Tea was launched in 2013. It's currently sold in 40 countries. The product, which is available in more than 30 varieties, attained huge popularity. It touched the billion-dollar sales mark in less than three years. Coca-Cola is planning to further launch FUZE Tea in additional markets in 2015.
I LOHAS mineral water
Coca-Cola Japan launched the I LOHAS mineral water brand in 2009. To further expand this brand, Coca-Cola introduced a new line of single-serve 515-milliliter I LOHAS beverages in plain and lemon flavors and a new larger 1,555-milliliter package in the convenience store channel.
Apart from these billion-dollar brands, Coca-Cola has a pipeline of 16 carbonated and still brands. These generate annual retail sales between $500 million and $1 billion.
Rival PepsiCo Inc. (PEP) has about 22 billion-dollar brands across its food and beverage categories. Coca-Cola and PepsiCo compete with several strong brands owned by peers such as Dr Pepper Snapple Group Inc. (DPS) and Monster Beverage Corporation (MNST).
The Consumer Staples Select Sector SPDR Fund (XLP) has 9.08% holdings in Coca-Cola as of February 16, 2015.
You can read more about Coca-Cola's business and its brands in our Coca-Cola company overview series.