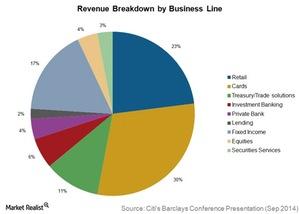 Citigroup: Number 3 US bank has $1.9 trillion in assets
Third-largest bank in US
Citigroup's (C) banking operations are the third largest in the US in terms of assets. It comes after JP Morgan (JPM) and Bank of America (BAC), which are respectively the largest and second-largest banks in the US. Together with Wells Fargo (WFC), the four banks make up ~28% of the Financial Select Sector SPDR ETF's (XLF) portfolio.
Citigroup's assets total a whopping $1.9 trillion. It provides a broad range of financial products and services, including consumer banking, corporate and investment banking, securities brokerage, transaction services, and wealth management.
Founded in 1812, the group is more than two centuries old. It has around 200 million customer accounts and ~250,000 employees.
Article continues below advertisement
Article continues below advertisement
Segments
Citigroup has two primary business segments: Citicorp and Citi Holdings. Citicorp represents the group's core franchises. It consists of global consumer banking businesses and an institutional clients group. Citi Holdings consists of businesses that the bank doesn't consider central and that are relatively insignificant compared to the overall business. The bank is systematically winding down Citi Holdings.
Around 30% of Citigroup's revenues come from cards, which is its biggest business. Cards and retail banking combined contribute over 50% of total revenues. These are followed by fixed income sales, trading revenues, and revenues from treasury operations. The graph above provides a breakdown of Citigroup's revenues by line of business.
Series overview
In this series, you'll learn about Citigroup's global operations, its various businesses, its loan portfolio, and how the bank compares with its competitors. You'll get to know the bank's strengths and weaknesses as well as its opportunities and threats. As well, you'll get an overview of Citigroup's stock performance compared with its peer group.