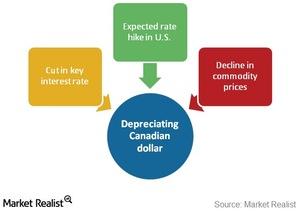 3 key factors affecting Canadian currency depreciation
Three factors affecting the loonie
The Canadian dollar has depreciated these past few months. The recent dip in its exchange rate vis-à-vis stronger currencies was caused by a cut to its key interest rate by the Bank of Canada, as discussed in the previous part of this series. Meanwhile, there are other reasons that have added to the decline in the loonie's value.
Article continues below advertisement
Article continues below advertisement
A rate cut leads to currency depreciation
A cut in the central bank's overnight lending rate, or, part of the benefit, is usually passed down to customers in the form of lower rates for domestic loans from commercial banks such as Royal Bank of Canada (RY), Bank of Montreal (BMO), Toronto-Dominion Bank (TD), Canadian Imperial Bank of Commerce (CM), and Bank of Nova Scotia (BNS). The iShares MSCI Canada ETF (EWC) in invested in these banks.
A policy rate cut makes it easier for corporations to raise money domestically. It also stimulates consumer demand for goods and services, as consumer and retail loans benefit. The availability of easy money leads to currency depreciation, which benefits exporters, but is counterproductive for importers.
Article continues below advertisement
Prospect of a rate hike in US
Higher interest rates in one country offer lenders a higher return relative to other countries. If the US raises interest rates sometime this year, many Canadians would prefer to park their funds in US Treasuries rather than Canadian debt. The preference for US-dollar-denominated debt over Canadian-dollar-denominated debt would further weigh down the value of the loonie. Because markets are driven by investors' expectations about what the future holds for them, the loonie is already feeling the pressure from an expected rate hike in US.
The loonie and falling commodity prices
The resource-rich landscape of Canada has long served as a boon to the economy in the form of export revenues. Yet, the country's increasing reliance upon commodities, and the proportion of the economy's revenue from commodity exports, has exposed the country to another risk—the risk of a fall in world commodity prices.
Is this phenomenon already affecting the Canadian economy? We'll discuss this in our next part.