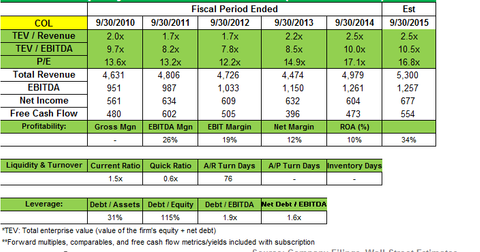 ValueAct continues to trim position in Rockwell Collins
By Samantha Nielson

Updated
ValueAct and Rockwell Collins
Hedge fund ValueAct Capital's amended 13D filing dated December 24 reveals that the fund owns 5,599,572 shares of Rockwell Collins (COL). This accounts for an approximate 4.2% stake in the company. The fund had already lowered its stake in Rockwell Collins to 7,803,303 shares in November. The 3Q14 filing for the month ended September revealed 11,051,428 shares in the company.
Article continues below advertisement
Overview of Rockwell Collins
Rockwell Collins is a leader in the design, production, and support of communications and aviation electronics for commercial and military customers worldwide.
Its Government Systems business provides a broad range of electronic products, systems, and services to customers that include the US Department of Defense, other ministries of defense, other government agencies, and defense contractors around the world. Its sales are categorized thus:
avionics
communication products
surface solutions
navigation products
Rockwell's Commercial Systems business supplies aviation electronics systems, products, and services to customers worldwide. The customer base is made up of original equipment manufacturers of commercial air transport, business and regional aircraft, commercial airlines, and business aircraft operators. Its sales are categorized thus:
air transport aviation electronics
business and regional aviation electronics
Article continues below advertisement
Rockwell Collins's ARINC acquisition expands position in information management services.
Rockwell Collins completed the $1.42 billion acquisition of transportation communications specialist ARINC Inc. from investment firm Carlyle Group in December 2013. The acquisition is meant to help the company shift away from reliance on government contracts. The impact of sequestration has been taking a toll on its government business.
As a result of this acquisition, a new Information Management Services business segment was formed. This new segment combines ARINC with the Rockwell's flight services business that had previously been included in the Commercial Systems segment.
Businesses sold in response to changing dynamics
The company sold its satellite communication systems business, formerly known as DataPath. It also sold its Kaiser Optical Systems subsidiary that supplied spectrographic instrumentation and applied holographic technology.
Rockwell said the "decision to sell these businesses is part of an overall strategy to reshape the Government Systems segment to align with the changing dynamics of the defense environment and focus on opportunities in addressed markets for the company's core products and solutions."
Article continues below advertisement
4Q14 performance
In the fourth quarter of 2014, Rockwell Collins saw a 15% year-over-year boost in its top line to $1,402 million, primarily due to the ARINC acquisition. The company saw healthy sales growth in its Commercial Systems and Information Management Systems segments, while the Defense Systems segment saw a slight decline due to US military budget cuts.
For more on Rockwell Collins's performance, please read Highlights of Rockwell Collins Q4 2014 earnings.
ValueAct's quarterly filings
The fund's latest 13D amendments include MSCI Inc. (MSCI), Allison Transmission Holdings (ALSN), Armstrong World Industries (AWI), and Rockwell Collins (COL).
The fund also updated its positions in Adobe Systems Inc. (ADBE) and Valeant Pharmaceuticals (VRX) via a Form 4 filed with the U.S. Securities and Exchange Commission. Notable new positions in 3Q were Agrium (AGU) and 21st Century Fox (FOXA). The fund exited a position in Dresser-Rand Group (DRC).
The next part of the series will discuss the fund's position in Adobe Systems.