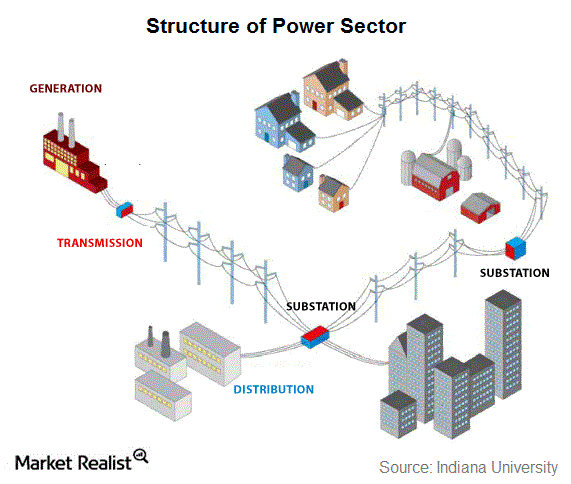 Understanding the structure of the global power sector
By Mike Sonnenberg

Jan. 14 2015, Updated 8:05 a.m. ET
Structure
While the power sector differs country by country in terms fuel use for electricity generation and end use, the operational structure of the sector across the world is pretty much the same. The power sector is divided into three main functions.
generation
transmission
distribution
Article continues below advertisement
Generation
Electricity generation is the first and foremost function of the power sector. Electricity is produced in various ways.
Conventional thermal power: Thermal power is generated using fuels like coal or natural gas to produce heat. Thermal power plants are made of three systems: boilers (used to produce steam using heat generated from burning coal or natural gas), turbines (the steam spins the turbine), and generators (the spinning turbine drives the generator, which converts thermal energy into electricity).
Nuclear energy: Nuclear power plants function in similar ways, except heat is generated from nuclear fission in a nuclear reactor. The heat is used to boil water to generate steam, which drives turbines and generators.
Renewable energy: Put simply, renewable energy comes from sources that naturally replenish. Since these sources are alternatives to conventional fossil fuels, they're also known as "alternative energy" or "clean energy" sources. A vast array of energy sources fall under the renewable energy sources category, including hydroelectric, solar power, wind power, and biofuels. ETFs such as the Guggenheim Solar ETF (TAN) and the PowerShares WilderHill Clean Energy Portfolio (PBW) invest in companies operating in the renewable energy space.
Major power generation equipment manufacturers include General Electric (GE) and Siemens AG.
Transmission and distribution
"Transmission" refers to the movement of electricity from the power plant to sub-stations near demand centers, while "distribution" refers to passing electricity to consumers. Transmission and distribution both use transmission lines. Major players operating in the space are ABB (ABB) and Eaton Corp. (ETN).
Before moving on to the power equipment industry, it's important for you to have a look at major fuels used to generate electricity. Some companies specialize in certain fuel types, while some larger companies have a presence across the board. Knowing about fuels will help you understand the difference better.