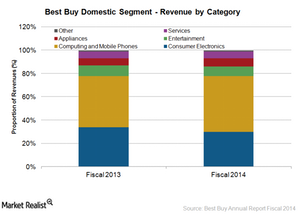 Understanding Best Buy's revenue mix
Key segments
Best Buy (BBY) has two operating segments—Domestic and International. The Domestic segment accounted for 84% of fiscal 2014 revenues. The International segment, which includes operations in Canada and Mexico, accounted for 16% of revenues.
Article continues below advertisement
Key categories
Best Buy's revenue mix is made up of six product categories:
consumer electronics
computing and mobile phone
entertainment
appliances
services
other
The computing and mobile phone category is the largest, accounting for 48% of the Domestic segment's fiscal 2014 revenues. The category includes laptops, desktop computers, tablets, mobile phones, and related accessories.
The consumer electronics category, which accounted for 30% of Domestic revenues, includes TVs, home theaters, digital cameras, DVD players, MP3 devices, and related accessories.
The entertainment category accounted for 8% of Domestic revenues. It includes video gaming, DVDs, CDs, Blu-rays, and computer software.
The appliances category, which includes large and small appliances and kitchen and bath fixtures, accounted for 7% of Domestic revenues.
Retailers who compete with Best Buy in the above categories include GameStop (GME), RadioShack (RSH), Target (TGT), Amazon.com (AMZN) and Wal-Mart Stores (WMT).
Best Buy and peers such as Wal-Mart are a part of broad-market ETFs including the iShares Core S&P 500 ETF (IVV) and the SPDR S&P 500 ETF (SPY).
Emerging growth categories
According to Consumer Electronics Association, or CEA, projections, new product categories are expected to grow 108% in 2015. These emerging categories include the following:
3D printers
4K ultra-high-definition televisions
connected thermostats
unmanned systems – unmanned aerial vehicle and home robots
IP (Internet protocol) cameras
wearables – health and fitness devices, smartwatches, and smart eyewear