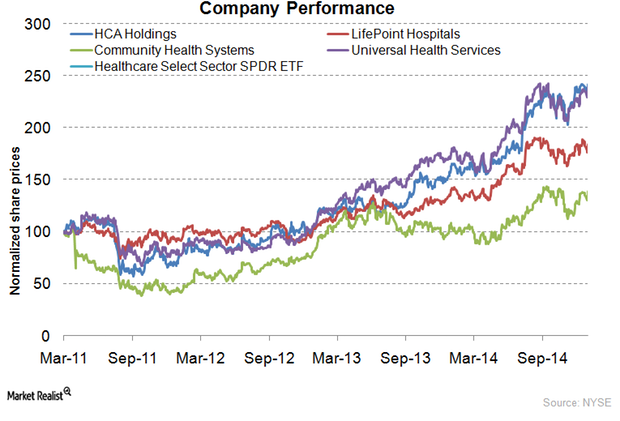 An overview of LifePoint Hospitals
Overview
Headquartered in Brentwood, Tennessee, LifePoint Hospitals (LPNT) is a company that provides healthcare services in non-urban communities and rural areas. The company has a network of 67 hospital campuses across 21 states in the US.
LifePoint Hospitals also has a market capitalization of around $3.28 billion, one of the highest in the US for-profit hospital industry.
Article continues below advertisement
Article continues below advertisement
History
In 1999, LifePoint Hospitals was founded when a healthcare company called Columbia/HCA, formed by the merger of Columbia Hospital Corporation and HCA Holdings, spun off a number of hospitals. At the outset, LifePoint Hospitals consisted of 23 hospital campuses in the rural areas of southeast US.
Triad Hospitals, with 34 hospital campuses, was also created as a result of the spin-off. In 2005, the company acquired the Province Healthcare Company and formed a new public company, LifePoint Hospitals Inc. Following the acquisition, LifePoint Hospitals owned 50 hospitals across 19 states in the US.
In May 2011, Duke LifePoint, a joint venture between LifePoint Hospitals and the Duke University Health System, acquired the North Carolina cardiac catherization operations of the MedCath Partners LLC. This move strengthened the company's cardiology care segment across North Carolina.
In September 2014, LifePoint Hospitals acquired Conemaugh Health System to expand its network in Pennsylvania.
These acquisitions continue to strengthen the company's position in remote rural markets, especially those where LifePoint is the sole healthcare provider.
Share price performance
The graph above shows that LifePoint Hospitals delivered an annual return of 17.3% between March 2011 and January 2015. Though its performance lagged that of the Health Care Select Sector SPDR Fund (XLV) with a return rate of 22.5%, Universal Health Services (UHS) with 25.6%, and HCA Holdings (HCA) with returns of 25.9%, LifePoint Hospitals continues to surpass Community Health Systems' (CYH) return rate of 8.9%.