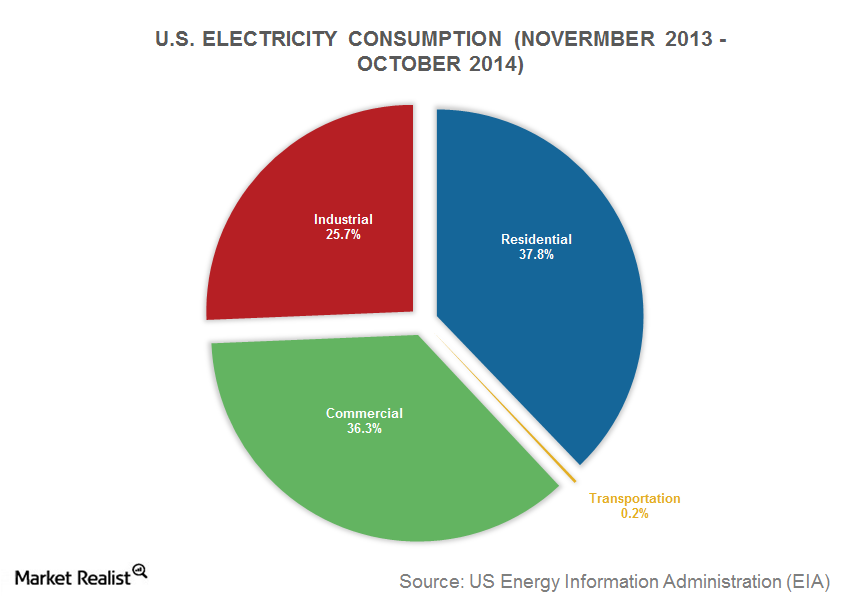 The must-know dynamics of the global power industry
The importance of electricity
Electricity is the most important source of energy in our daily lives. It entertains us by powering our televisions, keeps our food fresh by powering our refrigerators, keeps us comfortable by powering our air conditioners, keeps our houses and offices well lit, and powers other appliances to make our lives comfortable. Electricity is even more important in today's world, as it powers our gadgets and keeps us connected.
Article continues below advertisement
Major end-user sectors
Electricity is used everywhere. In the US, the industrial sector accounts for roughly 38% of electricity consumption, followed by 33% from the residential sector. The commercial sector accounts for 28% of electricity consumption. While electricity consumption in the transportation sector is negligible, it is growing, thanks to innovation in electric cars by companies like Tesla Motors (TSLA).
Top electricity-producing countries
Since we're talking about the global power industry, it's important to consider the top electricity-producing countries. China tops the list with 5.4 gigawatt hours (or GWh) of electricity produced in 2013. The US is the second-largest electricity producer with 4.3 GWh of electricity produced in 2013. India is distant third with 1.1 GWh of generation in 2013. Note that the end use of electricity differs country by country based on the country's development and structure.
ETFs affected by electricity dynamics include:
In the next part of this series, we'll look at the structure of the power sector before moving on to focus on the power generation equipment industry.