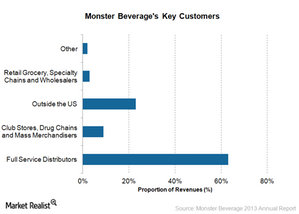 Monster Beverage's distribution network
Monster Beverage relies on third parties
Monster Beverage Corporation (MNST) doesn't manufacture and distribute its products. It outsources the manufacturing process to third-party bottlers and contract packers. The company does pack some of its products in certain locations—like Australia, Brazil, Canada, Europe, Mexico, and the US. This ensures that the beverages are produced closer to markets where they're sold. Also, it brings down the freight costs and transportation-related damages.
Article continues below advertisement
Key customers
Monster Beverage mainly sells its products to full-service beverage distributors—like Coca-Cola Refreshments USA, Inc., or CCR, retail grocery and specialty chains like Walmart (WMT), wholesalers, club stores, drug chains, mass merchandisers, convenience chains, health food distributors, food service customers, and the military. In 2013, 63% of net sales were derived from full-service distributors.
Major bottling partners
Monster Beverage has some major distribution agreements with The Coca-Cola Company (KO), CCR, and Anheuser-Busch, Inc. (BUD). The company also signed distribution agreements with bottlers of the Coca-Cola Hellenic group for the distribution of certain Monster Energy brands in Austria, Bulgaria, Czech Republic, Hungary, Slovakia, Cyprus, Greece, Latvia, Lithuania, Estonia, Switzerland, and Poland. CCR accounted for ~29% of the company's 2013 net sales.
Monster Beverage's peer, Dr Pepper Snapple Group, Inc. (DPS), also depends on Coca-Cola and PepsiCo, Inc. (PEP) for the distribution of certain brands. You can have diversified holdings in these companies through the Consumer Staples Select Sector SPDR Fund (XLP).
Partnership with Coca-Cola
In August 2014, Coca-Cola purchased a 16.7% stake in Monster Beverage. It agreed to amend their current distribution agreement in the US and Canada to include additional territories and long-term agreements. Through the deal, Monster Beverage will be able to leverage Coca-Cola's strong distribution network.