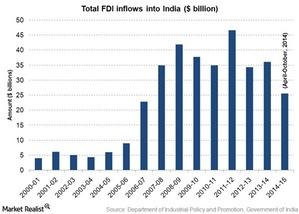 Make in India: A key campaign for India's manufacturing sector
The Make in India campaign
The Make in India campaign was launched by Prime Minister Narendra Modi in India (EPI) (PIN) (INDA) on September 25, 2014.
The campaign aims to provide domestic and overseas investors with an environment that's conducive to manufacturing. Indeed, it hopes to make India a major manufacturing hub. The campaign is expected to create job opportunities for at least 100 million youths in India over time. For more on this initiative, read Why the Make in India campaign is key to manufacturing.
As of January 5, 2015, the campaign had become a huge, fast-growing digital initiative, with 2.1 billion impressions on social media, an overall fan base of over 3 million on Facebook (FB), and as many as 263,000 followers on Twitter (TWTR).
Article continues below advertisement
Article continues below advertisement
Workshop: Stimulating investments for Make in India
On December 29, Modi's administration held a one-day workshop, "Sectoral Perspectives & Initiatives: Creating an enabling framework for stimulating investments for Make in India." The event, which took place in New Delhi, focused on recognizing existing investment and stimulating more investment for the campaign.
The workshop's agenda featured a total of 18 sector-specific sessions. These sessions were delivered by representatives of the 25 divisions of the Make in India campaign. Action plans for the short to medium term—one and three years—for each sector were reviewed.
25 sectors in focus
Sector-specific issues such as land acquisition, taxation, inverted duty structure, budget recommendations, and inter-ministerial differences were discussed. Sectors including the chemical, oil and gas, petrochemical, capital goods, pharmaceutical, food processing, tourism, aviation, automobile, aerospace, defense production, and skills development industries were the focus of the workshop.
The workshop was an example of what Modi calls, "Minimum Government. Maximum Governance." This is the vision he intends to apply in developing India's manufacturing sector, which currently faces several challenges, as underlined by India's Finance Minister, Arun Jaitley.