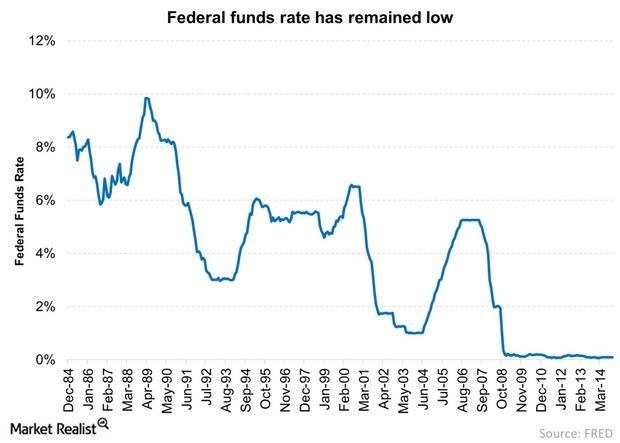 Why Low Interest Rates Have Affected Asset Prices And Yields
By Matt Tucker, CFA

Nov. 20 2020, Updated 12:13 p.m. ET
At this point, the federal funds rate has been close to zero for over six years. But as we head into 2015 and investors look to position portfolios, many are asking whether this year might be the year when interest rates begin to rise. After all, the Fed doesn't actually set interest rates; rather it tries to influence them through its monetary policy.
Article continues below advertisement
Market Realist – Low interest rates have supported the economy, but…
The graph above shows the history of the federal funds rate. The federal funds rate is a mechanism that the Fed uses to control the interest rate in the economy. The rate has been close to zero for six years.
The Fed maintained low interest rates to stimulate growth after the financial crisis. Along with low rates, the Fed aggressively purchased long-dated Treasuries (TLT) and MBS (mortgage-backed securities) to pump money into the economy. This was to create demand by boosting consumption and investment. The Fed has continued to keep rates low, for the reasons we cited in the first part of this series.
The accommodative monetary policy boosted the US economy. It helped the S&P 500 (IVV) increase by ~47% since September 2012. However, there were some side effects.
Treasury yields have been beaten down due to the Fed's excessive buying. Currently, ten-year Treasury (IEF) yields are 1.8%. The search for yields led investors to enter into risky assets—like high yield bonds (HYG) and emerging market bonds (EMB). This decreased their yields as well. Another side effect of low interest rates is that it discourages household savings.
The next two parts of this series explain why interest rates could stay low for longer.